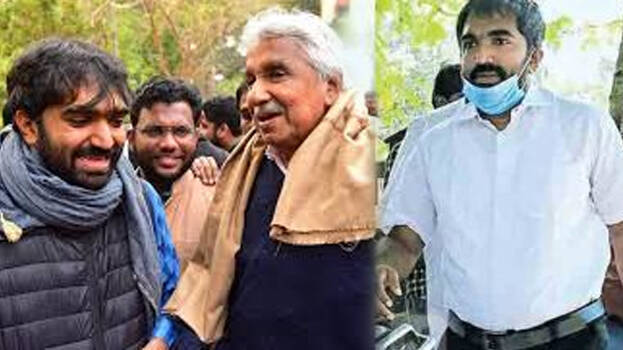 KOLLAM: Chandy Oommen, son of former chief minister Oommen Chandy, reached the Chavara First Class Judicial Magistrate Court wearing a white mundu and a shirt. He soon changed to a black pant borrowed from a youth congress leader and a band (worn on your neck) borrowed from another advocate and then reached the court room. At the end of some heated arguments, got bail for five youth congress activists arrested on charges of murder attempt.
Some dramatic incidents happened yesterday. Chandy Oommen reached the wards of Panmana grama panchayat where by elections are held. Soon youth congress district president R Arun Raj informed him that Chavara First Class Judicial Magistrate Court is considering the bail plea of five of their activists, arrested on charges of murder attempt for pelting stones at the car of MLA K B Ganesh Kumar. Following that, Chandy Oommen, who is practicing in the Supreme Court, appeared in the case.

Some of his companions pointed out that dress was a problem to appear in court. That was not a problem for him. He soon found a solution by wearing youth congress constituency vice president J Joymon's pants and another lawyer's band. The problem was quickly resolved. Due to Covid-19, coat and gown were not mandatory. Congress leaders and lawyers E Yusuf Kunju, J Suresh Kumar, C Sajeendra Kumar and Koyivila Vishnu Vijayan also reached the court.