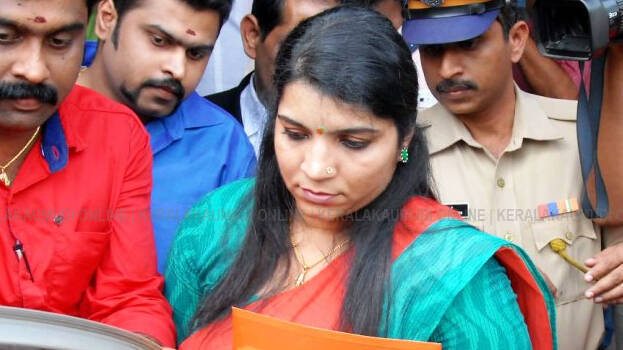 THIRUVANANTHAPURAM: The CPM is afraid of me, said Saritha S Nair, accused in the solar case. Her claim was to a youth identified as Arun, victim of job fraud in Neyyattinkara. This was heard in the audio of Saritha trying for a job fraud. The backdoor appointment is for party funding. The money will be shared between the party and the officials. The CPM is admitting all this as they are afraid of me, she said.
Saritha claimed that four were given backdoor appointments through her in government's Arogyam Keralam scheme. In her phone conversation with Arun, she said appointments were with the connivance of politicians and bureaucrats and the agreement is that those getting jobs should stand with the party.
Although the audio clips have been with the Neyyattinkara police for the past one year, they have not yet examined its authenticity. No action was taken on the complaint filed against Saritha in the job fraud case. The complaint is that she swindled around Rs 14 lakh from two youths of Neyyattinkara in the name of offering them jobs in KTDC and BEVCO.
Meantime, Saritha is of the stand that the audio is not hers. She said that she has not seen Arun. He retorted that he has the details of more than 300 calls of Saritha, her mother, lawyer and others.