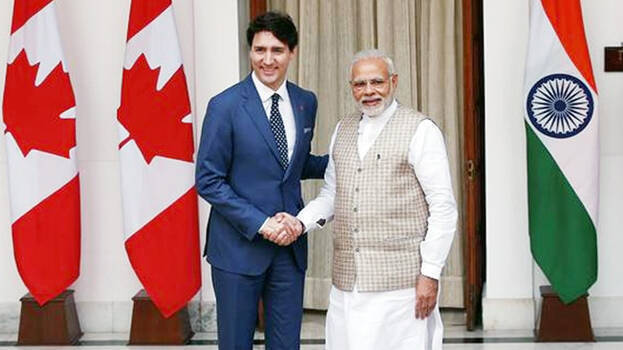 NEW DELHI: The government confirmed Friday that PM Narendra Modi discussed with his Canadian counterpart Justin Trudeau the ongoing farmers' protests, saying that Trudeau had commended efforts by India to address issues related to the protests through dialogue.
While the initial Indian readout was silent on the issue, Trudeau's office had later said in its statement that the "recent protests" were discussed in the Trudeau-Modi phone conversation along with both Canada and India's commitment to democratic principles.
"On the farmers' protests, PM Trudeau commended efforts of the Government of India to choose the path of dialogue as befitting in democracy," said MEA spokesperson Anurag Srivastava, responding to a query on the Canadian version of the conversation. Trudeau, the official added, also acknowledged the responsibility of his government in providing protection to Indian diplomatic premises and personnel in Canada. India has in the past few months repeatedly raised with Canada, and also several other countries like the US and UK, the need for local authorities to ensure adequate security for Indian missions in anticipation of violent protests and demonstrations.
India has also emphasised before foreign governments that it's negotiating with the farmers to resolve their issues and that this is a democratic process being handled accordingly.
According to the Canadian readout, the two leaders had discussed the importance of addressing issues through dialogue.