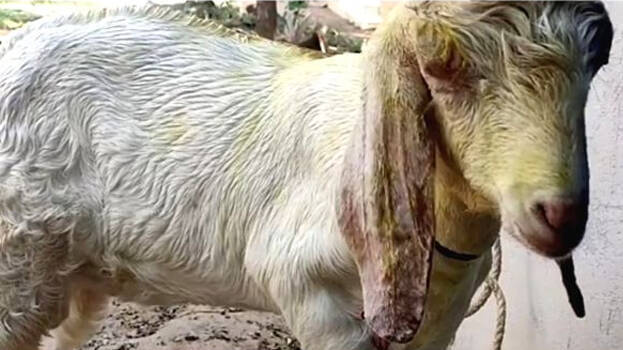 CHATHANNOOR: Acid was poured on a goat's face and body after barging into the house when no one was there. The attack was towards a goat owned by Suja of Kalluvathukkal. The goat sustained burns on its eyes and body and lost both its vision. The goat's skin was found peeling off, exposing the flesh and muscle.
Suja is a temporary teacher at Chathannur BRC training handicrafts for students with disabilities. When she returned from her relative's house in Kollam the other day, she noticed discoloration in its body and noticed an unusual behaviour. She rushed the goat to Kalluvathukkal Veterinary Hospital and when examined found that it was due to an acid attack.

One of Suja's two children is visually impaired. She started raising a goat, a pair of rabbits and birds for an extra income as she was not able to meet her expenses from the meagre salary obtained. The Paripally police have registered a case on the incident. Police said a dispute with her relatives is the reason for the attack.