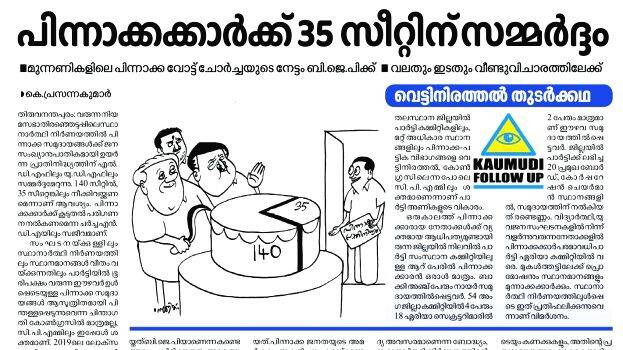 THIRUVANANTHAPURAM: The AICC secret survey report has recommended that the UDF should stand with the backward communities and Congress should give at least 37 seats to the backward classes to return to power in the Assembly elections. This is in view of the heavy setbacks in the local body elections after the backward sections, including the Ezhavas, were not given due recognition
The list includes the names of AK Antony's son Anil Antony, Oommen Chandy's son Chandy Oommen, KPCC, Youth Congress, KSU, Mahila Congress and INTUC presidents. The AICC-led survey was conducted by three agencies based in Kolkata, Mumbai and Bengaluru.
The report includes the names of candidates eligible to be contested on the Congress ticket in all the 100 constituencies and the community-wise figures. Beyond group and individual interests, the chance of success and general acceptance was considered in preparing the list. The final decision on the list will be taken after discussions at various levels of the party.
In the 2016 assembly elections, the Congress, which contested 87 seats, won only 22. The Ezhava community was given 11 seats, with victory in one seat. This time it is recommended to give 32 seats to the Ezhava community alone. The survey estimates that the Congress will be able to contest between 90 and 95 seats this time around.
Kerala Kaumudi's influence
The High Command was influenced by the Kerala Kaumudi reports which portrayed the gross negligence faced by the backward communities in the selection of candidates in organizational elections and local body elections. Hundreds of copies of the English translation of the reports were widely circulated in the state via e-mail and social media, and also to the Congress High Command. Subsequently, this was included in the agenda prepared by the High Command for the return of the Congress in Kerala and in the discussions held by the High Command representatives with the state leaders. The matter was also brought to the notice of the agencies appointed by the AICC for the secret survey in the state.