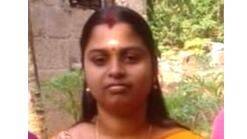 VELLARADA: In a shocking incident, a housewife set herself on fire after she was threatened by the moral police. The deceased has been identified as Akshara (36), wife of Kunnathukal native Suresh Kumar. She was a textile employee.
According to sources, a friend of Suresh had come to the house on Thursday night to see Suresh. Four youths from the neighbourhood who saw this stopped the person on the bike and threatened Akshara after barging into the house. Her husband and children had gone to the temple. Her husband and kids had gone to a temple in the meantime.
Akshara called her brother and informed her about the incident. Following this, she cut her wrist and set herself afire using kerosene. She was first rushed to Karakonam Medical College with severe burns and later shifted to Thiruvananthapuram Medical College. She died at around 4 pm on Friday.
Based on Akshara's brother's statement, a case has been registered against neighbours Manikandan, Subhash, Ranjith and Vishnu for breaking into the house and threatening her. The Vellarada police registered another case against Manikandan, Suresh and Vishnu on the complaint of her husband's friend Biju that he was detained and assaulted. Akshara's body is being kept at the Medical College mortuary for postmortem. Her children are Gauri Krishnan and Gauri Krishna.