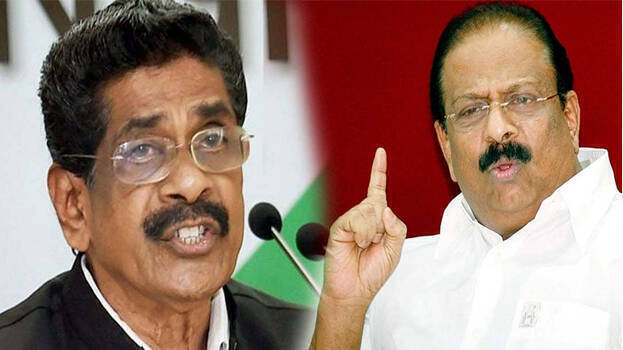 THIRUVANANTHAPURAM: As it has been confirmed that KPCC chief Mullapally Ramachandran will contest from Kannur, talks for the next KPCC president has become active in state Congress. Currently, Mullapally is considered for candidature in Wayanad, Kozhikode and Kannur districts. A section of Congress leaders also wants Mullapally to resign from the post ahead of the polls and they want Sudhakaran to be at the helm of KPCC.
There is no unanimity among Congress leaders over the candidature of Mullapally Ramachandran. Senior leader K C Venugopal holds the view that Mullapally must continue in the leadership and must steer the party during the polls. Sources say that Venugopal's opinion also reflects Rahul Gandhi's view on Mullapally's candidature. Whereas A K Antony does not concur with Venugopal's opinion, he also wants Sudhakaran to lead the party, if Mullapally enters into the poll fray.
Group leaders also say that Sudhkaran's leadership will not benefit the party. Oommen Chandy and Ramesh Chennithala have expressed dissent over K Sudhkaran helming the party. Earlier Sudhkaran has also said that some persons in the party cannot accept him leading the party. Recently when a controversy surfaced against chief minister Sudhakaran has lashed out at Ramesh Chennithala publicly.
Congress President Sonia Gandhi also wants Mullapally to enter into the poll fray. K C Venugopal has also told the AICC leadership that Sudhakaran's presence in the leadership might create a divisive influence in the party. His opinion has also received the support of Chennithala and Oommen Chandy. "Sudhakaran already has the tag of an inefficient leader who cannot take everybody along with him. Whereas Mullapally is not like that," the group leaders said. However, a section of Congress leaders has also opined that as all surveys have predicted the party's defeat in the assembly polls, Sudhkaran's presence would infuse a new sense of enthusiasm among the party workers and thus helps the party to improve its performance.
Talks for Kannur seat
As dissent and opposition have reached its peak against Mullapally's candidature in Kalpetta, now his eyeing for Kannur assembly seat. Sudhakaran has no issues over Mullapally's candidature in Kannur, but he demands the party chief's post for the Kannur seat. He has said that if he is appointed as party's chief, then he would work for Mullapally's victory in Kannur. However, Sateeshan Pacheni, the DCC president who is working in Kannur for the last five years, is determined to contest from Kannur in this assembly polls.