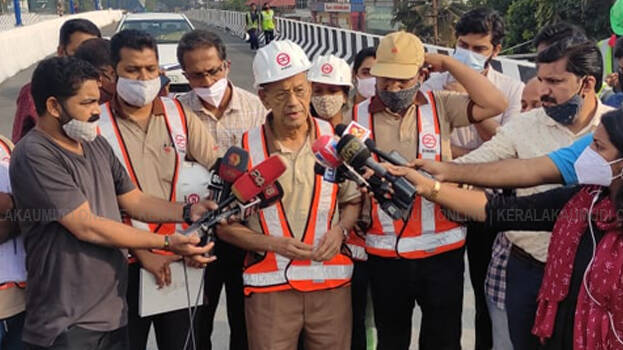 KOCHI: E Sreedharan, the Metro Man said Palarivattom Bridge will also be a campaign issue in the assembly elections. He said the BJP would come to power in Kerala and has not decided where to contest from. It will be easier if obtained a seat near Ponnani where he resides. I will work as a technocrat and not as a politician, he said.
'I will approach people with digital messages in the digital age instead of a door-to-door campaign. Age of the mind is more important than age of the body. The load test of the Palarivattom Bridge which started on Saturday was completed last night. E Sreedharan came to inspect the bridge following that. Today would be the last day of wearing the DMRC uniform, he told the media.
Work on the Palarivattom Bridge has been completed and will officially hand over it to the Roads and Bridges Corporation tomorrow or day after. The government should decide when the bridge should be opened to the public, he said.
'I am very happy that the work was completed very quickly. When the DMRC took over the reconstruction contract, we promised the government to complete the work within nine months. However, Uralungal was awarded the contract on the condition that the work should be completed in eight months. They had completed the work in five months and thanked the Uralungal Society for completing the work so quickly,' he said.
Sreedharan said the DMRC took over the reconstruction of the bridge with the sole intention of completing the bridge and open it to the public as early as possible. It was not with the aim of making money. There was good cooperation