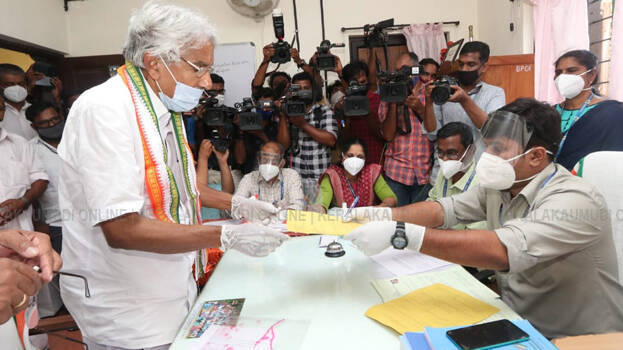 KOTTAYAM: Former chief minister Oommen Chandy has submitted nomination papers to contest in the Puthupally constituency. The papers were submitted after reaching the Pampady block office. DCC president Joshy Philip has accompanied Chandy. Oommen Chandy has given three sets of nomination papers.
Oommen Chandy is going to contest in Puthupally for the 12th time in a row. On rumours that he will contest in Nemom this time, dramatic incidents happened in front of his home in Puthupally.
This is the first election faced by Oommen Chandy after completing 50 years in assembly. Oommen Chandy
contested the assembly for the first time in 1970. In his debut polls, Oommen Chandy defeated CPM's E M George by 7,288 votes.
Whereas Ramesh Chennithala has submitted nomination papers in Harippad block along with party workers. Chennithala is seeking the mandate from Haripad for the fifth time.