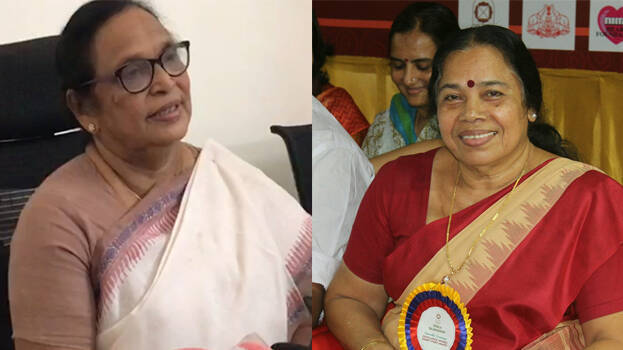 WAYANAD: KPCC vice president K C Rosakutty who had left Congress has finally joined CPM. P K Sreemathi, senior CPM leader, has visited Rosakutty's home in Bathery to officially welcome her to the party fold. Kalpetta's left candidate M.V. Shreyams Kumar has also visited her.
Rosakutty was working in the Congress party for the last three decades. She became the MLA of Bathery in 1991 and she has also functioned as a member of the Kerala Women's Commission. Rosakutty resigned from the party on the conflict over the Kalpetta seat. She has criticized that in recent times women in the party are not being recognized.
Rosakutty also criticized that Congress is not able to strengthen the secular forces in the country. She said she was deeply anguished over denying seat to Lathika Subash.
"The insensitive response of Congress leaders on Lathika shaving her head further pained me and increased my concerns. Bindu Krishna has to burst into tears before the media to get a seat in Kollam. I fear that another group led by high command leaders may come up in the party. I have taken such a decision under intense pain and anger. I am not interested to give up my public career," she said.
"I have tried my best to field someone from Wayanad in Kalpetta but senior leaders never paid heed to my requests. I strongly condemn over ignoring the people of Wayanad. The candidature of T Siddique in Wayanad shows that the leadership has completely ignored the party leaders in Wayanad. I even talked with leaders including K C Venugopal and Oommen Chandy. I will retract my decision. The most important reason for my resignation from the party is the leadership's decision to field someone from outside Waynad in the Kalpetta assembly seat," she added.