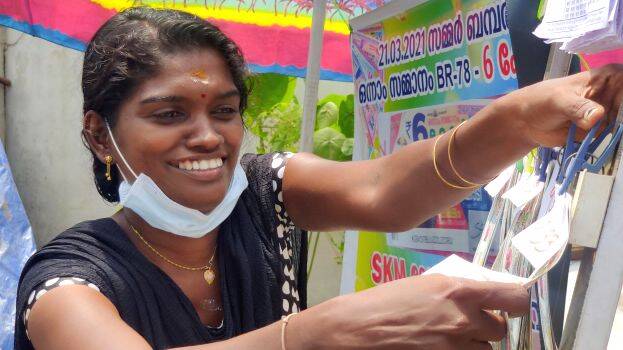 KOLENCHERY: Chandran, who won the state government lottery's summer bumper prize of Rs 6 crores, bought the ticket on credit from Smija. An hour before Sunday's draw, Smija had told Chandran, who used to buy lottery tickets from her, to take one of the unsold tickets. Following this, a photo of the lottery ticket was sent to Chandran's mobile. At around 3 o'clock, the agency informed that the ticket won the first prize. Smija, who was in Kalamassery then, returned back and handed over the original ticket to Chandran.
Both Smija and her husband used to work in the lottery packing section of Kakkanad KBPS. When they demanded a hike in their wages, they lost their jobs. Following this, they began selling lottery tickets 10 years ago from a friend's shop. Tickets will be available from morning 6 am. Up to 700 tickets have been sold in a single day. After receiving the prizes, the sale
became a hit.
Later she started a lottery business in her husband's hometown of Varapuzha. Meanwhile, the family got a house through the LIFE project and reached Pattimattom just before the lock down.
Ticket sales are also available through the WhatsApp group. The group includes natives of Karnataka and Tamil Nadu and people from other districts. The photo of the tickets will be posted on the group and money will be received through GooglePay. The 36-year-old Smija is a postgraduate in mathematics.
Though she had passed the test for KSRTC conductor and excise officer, she did not pass the fitness test. Following this, she gave up her dream of getting a government job.
Smija was also appointed in the Odisha branch of Indian Bank. However, she was forced to turn it down due to the birth of her second son. Since she had to stay in Kerala for the treatment of her elder son who had a brain infection, she started selling lottery tickets.
Smija is not ready to give up lottery trading after collecting the commission for the bumper prize. She became a star after selling bumper ticket yesterday as well. And with so many people coming in and taking selfies with her, the business is booming. You have to work hard and make money. That will be the case for as long as possible - that is Smija's policy.