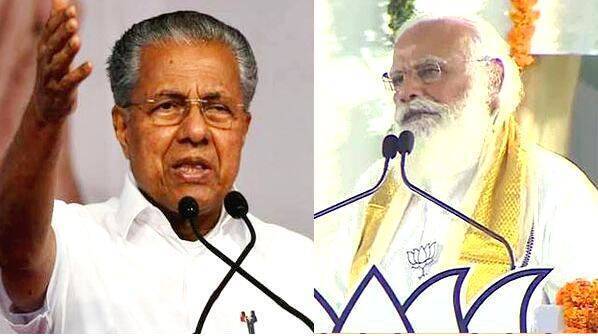 THIRUVANANTHAPURAM: Prime Minister Narendra Modi, who arrived in Kerala today for the election campaign, delivered a speech in Konni and Kazhakoottam highlighting the Sabarimala issue. In his speech, Modi slammed the Left government by accusing it of attacking Ayyappa devotees and leaving agents to destroy shrines.
Meanwhile, Chief Minister Pinarayi Vijayan lashed out at the Prime Minister for his remarks about the Sabarimala issue. Pinarayi Vijayan said that if the Sangh Parivar have the idea of ​​ carrying out an election coup like in Tripura, they will be given an unimaginable setback.

'The secular mind of Kerala will throw away the illusions of the opportunist alliance into the Arabian sea. The BJP is a party that isn't confident about winning a single seat in Kerala. Yet for what purpose are their key leaders staying in Kerala and making threats? In Tripura, the BJP has swallowed up the entire Congress. There is a history in Kerala where the people sided with the Left when the BJP made such moves with Congress and League," the CM said. The CM also said that the opposition and the BJP are not ready to discuss the last five years of development.