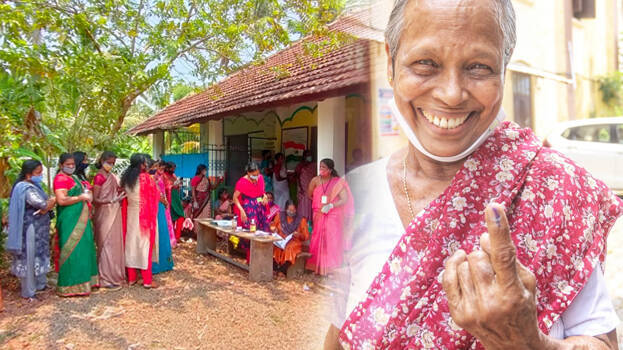 THIRUVANANTHAPURAM: Without considering the covid-19 pandemic and scorching summer heat, people are flocking to polling booths. After the first six hours of voting, polling has crossed over 50 per cent. Even now, long queues of people standing outside the polling booths could be witnessed. All the three fronts in the state stand baffled and are puzzled over the reason behind the high polling rates.
When the voting has crossed 50 per cent, the highest polling is recorded in Kozhikode, Kannur and Alapuzha districts and the least polling is in Vengara, only 39,12% is the polling percentage here. 2,74,46,039 voters are there this time from 140 constituencies in the state. About 40,771 polling stations have been arranged. Considering the covid 19 situation in the state, only 1,000 voters are allowed inside a polling booth. 957 candidates are seeking mandate in this assembly polls.
District polling rates as of 4.00 pm
Thiruvananthapuram 55.2

Kollam 57.7

Pathanamthitta 56.6

Alappuzha 60.2

Kottayam 53.5

Idukki 55.6

Ernakulam 62.7

Thrissur 61.3

Palakkad 62.9

Malappuram 57.8

Kozhikode 65.2

Wayanad 60

Kannur 64.6

Kasargod 60.7
The voting time is from morning 7 am to evening 7 pm. The last one hour is meant for Covid 19 patients and those in the primary contact list. In the constituencies where a triangular fight is expected, high polling was recorded.
Even on the polling day, Sabarimala issue was the highlight. The issue again made a comeback with NSS general secretary G Sukumaran Nair's statement, following which UDF leaders unleashed strong criticism on the government and chief minister. Meanwhile, isolated incidents of attack and vandalism were reported. In some areas, the voting was also disrupted by the anomalies in the voting machine.