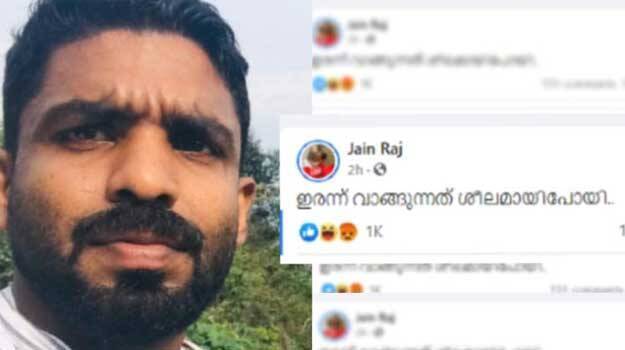 At a time when the CPM is on the defensive in connection with the murder of Muslim League activist Manzoor in Koothuparamba, the Facebook post of Jain Raj, son of P Jayarajan, has stoked a controversy. His one-line post titled 'Irannu Vangunnathu Sheelamayipoyi' courted a controversy. Youth League leader P K Firoz said the FB post is a proof of a planned murder in Koothuparamba.
Widespread protests have been raised against the FB post. Many responded to Jain's post and commented for and against Manzoor's murder. Manzoor of Pullookkara was hacked in Koothuparamba yesterday. Before hacking him to death, bombs were hurled at his house. A clash broke out between the CPM and the League related to voting. The two was rushed to the hospital with serious injuries.
Manzoor died early this morning and Muhasin is undergoing treatment in a hospital. The police have taken one into custody in connection with the incident.