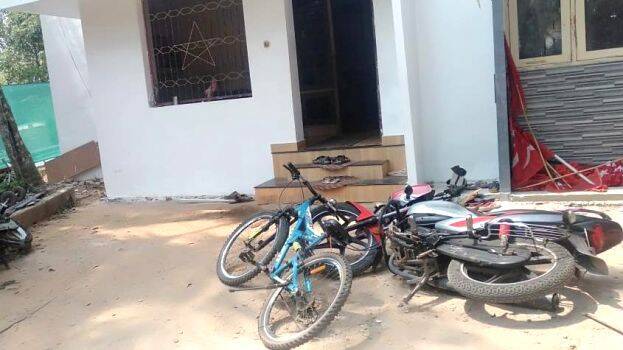 MALAYINKEEZHU: CPM-BJP activists attacked each other in Konacode and Perukavu areas of Vilavoorkal panchayath, part of Kattakada constituency. Thirteen people were injured, including a pregnant woman. The incident took place around 9.30 pm on Wednesday.
Some broke open the door of RSS worker Ajith's house in Perukavu and beat him up. Ajith's five months pregnant wife Rajasree (24) and mother Sasikala (62), were beaten when they tried to stop them. His father Rajan (71) and his brother Sarath (29), a soldier, were beaten when they tried to intervene. Rajasree and Sasikala were admitted to Thycaud govt hospital and others were admitted to Malayinkeezhu Taluk Hospital.
Within an hour of the incident, four houses were attacked, including the house of Sudheer, secretary of the CPM Perukavu branch committee. Nine people were injured, including a 69-year-old woman. Two bikes and a house were destroyed.
Sudheer's mother Vishalakshi (69) was brutally beaten by a group that smashed the door and window glass of her house. Vishalakshi was admitted to Malayinkeezhu govt hospital.
Windows of DYFI Vilavorkal Local Committee Secretary Vishnu's (24) house in Perukavu Vedanvila was smashed and his father Chandran (65) and mother Valsala (55) were beaten up.
CPM activist Jayakrishnan (28) of Vinayaka in Perukavu was attacked while he was standing in front of his house. He was admitted to the Medical College Hospital with serious head injuries. Arsh (23) from Puthuveettil and Sumesh (26) from Konacode were assaulted. CPM activist Baiju, 27, who was on his bike was stopped and was hacked on his leg.
A large police team led by Rural SP PK Madhu and Special Branch DySP Abhilash reached the spot on Wednesday night and brought the situation under control. Twelve people from both sides were taken into custody. The police are camping here.
LDF candidate IB Satheesh and NDA candidate PK Krishnadas visited the spot.
Police say the reason for the attack was that DYFI-CPM activists were riding their bikes the day before the polls at a playground Konakottu, a place where BJP-RSS activists and Balagokulam children gather to play. There was a dispute regarding this incident and the police registered a case. Despite the intervention of the leaders, untoward incidents were avoided but tensions remained. This is what led to the violence.