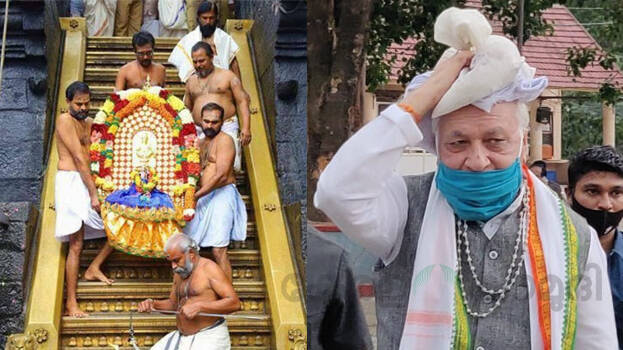 PATHANAMTHITTA: Governor Arif Mohammed Khan on Sunday visited the Sabarimala temple. He was accompanied by his youngest son Kabir. The two reached the Sannidhanam at around 7.15 pm They were welcomed by Devaswom Board president N Vasu.
The governor arrived at the Pampa guest house by around 4.15 pm. He carried the customary 'irumudikettu' (the traditional bundle carried by devotees to the temple) to the Sannidhanam to have a glimpse of Lord Ayyappa.
Devaswom authorities were present at the temple. Strong security arrangements were arranged at Sabarimala.
The temple opened for the special Pooja for the Vishu festival on Saturday evening. It was Chief Priest VK Jayaraj Potti who opened the sanctum sanctorum and lighted the lamp in the presence of tantri Kandararu Rajeevaru. Devotees are allowed to visit the temple from Sunday morning.