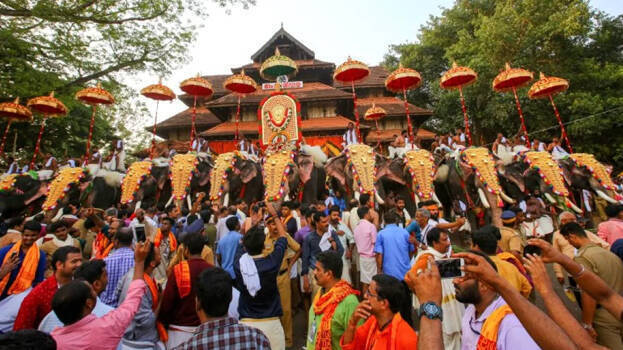 THRISSUR: The district administration has decided to impose more restrictions on Thrissur pooram, which has been decided to be undertaken in a symbolic manner. The roads to Swaraj round and shops will be closed. 2,000 policemen will be deployed to provide security. Transportation to Swaraj ground will be banned on April 23 and 24th.
A special group will be appointed to observe the elephants and to conduct the fireworks. Whereas the devaswoms and the district administration have jointly decided no to allow the people to watch the fireworks. The public will be fully prevented from getting access to the Pooram grounds. Officials will visit the district to review the arrangements put in place for Pooram.
18 have been tested positive for the pandemic in the Pooram city of Thrissur. All of them were put on quarantine. Most of them are the shopkeepers and workers in the Pooram city. It has also been decided to prepare the contact list of these persons. Covid 19 was confirmed among them in the tests conducted ahead of Thrissur Pooram. With this, the district administration has decided to cancel the Pooram exhibition.
In the meet held on today morning, chaired by the district collector, it has been decided to limit the constituent Poorams with one elephant each. The constituent Poorams will be undertaken without its usual pomp and festivities. All eight constituent Poorams will come up with eight elephants this time and only 50 people will be allowed with each constituent Pooram. Thus only 400 people will turn up as part of eight constituent Poorams. RT-PCR tests are mandatory for those who accompany the Poorams. The constituent temples have decided to cancel all festivities and to carry out only the associated customs.
Meanwhile, Paramekkavu has decided not to withdraw the festivities. They have decided to undertake the Pooram with 15 elephants without losing the festival's usual sheen. The decorative Kudamattam will be conducted symbolically. Whereas Thiruvambadi has decided to limit the number of elephants. Thiruvambadi will use only one elephant to take the Tidambu. Tayambakka and Pakalpooram will be limited accordingly.