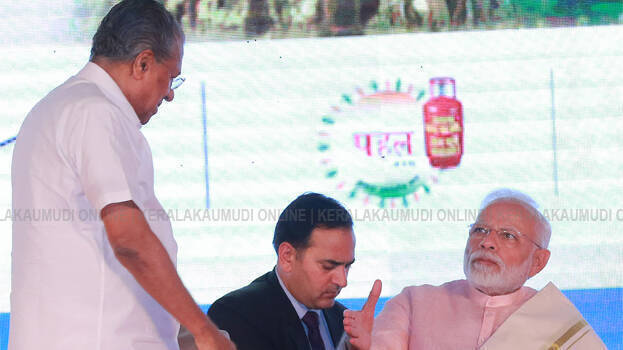 THIRUVANANTHAPURAM: Pinarayi's victory through the 'break the chain' surpassing 'a political Ockhi' and the 'flood of controversies' has further increased the height of Pinarayi Vijayan in national politics. Even though the party has lost power in Bengal and Tripura, retaining the party's position in Kerala could be attributed to Pinarayi's efforts. The party's victory has given him the tag of an undisputed leader among the party circles at the national level. Now Pinarayi will have the say to make decisions independent of the party's organisational limits. For CPM, Pinarayi will be the poster boy in the fight against Sangha Parivar.
As of now, Pinarayi has earned the tag of defending against the BJP by putting out better administration in the state. Pinarayi has also tried to create a collective of states in the fight against BJP on multiple fronts including the fight against the Citizenship Amendment Bill. He has created such an informal association with Tamil Nadu's Stalin and Delhi's Kejriwal. The result of this election proves that the relevance of such collectives is increasing.
The witch hunt of probe agencies, CAG probe are instances when CPM realised that the centre is violating all limits. At that time the people of the state has witnessed the political defence put up by the Pinarayi-led state government. The chief minister took to the streets in the protests against CAA. The poll results show that such initiatives have further cemented the influence of the left front among the Muslim communities in the state. Therefore the position of Pinarayi in the national leadership of anti-BJP politics is significant.
The party leadership will soon initiate the organisational meetings and the election of the party's office-bearers which was delayed by the assembly polls. Even in these things, the interests of Pinarayi Vijayan, who is also a polit bureau member, will be protected. Kerala is the only oasis left to CPM. Therefore there is no leader in CPM who can challenge the leadership of Pinarayi at the national level.
Before the assembly polls, A K Anthony said that if Pinarayi comes to power again, then even the polit bureau won't be able to regulate him to which CPM general secretary Sitaram Yechury replied that Anthony has no idea how CPM works. However, the coming five years will reveal how long does Pinarayi's leadership will remain undisputed in the party and the government?