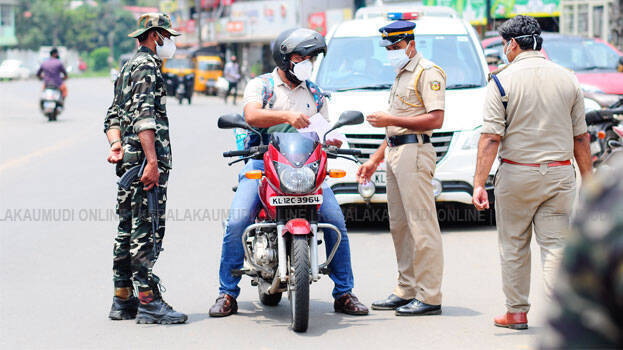 THIRUVANANTHAPURAM: The police are unhappy with the government's order for a lockdown starting in the state from tomorrow morning. Police are demanding to curb the relaxations. The police assessment is that the lockdown cannot be implemented effectively if relaxations are given. Top police officials had informed the state government about this.
Police said giving consent to co-operative societies to function and permission to construction sector are impractical. If the workers stay in the construction sector, work can continue. Police say it is impractical to allow travelling. Police believe the relaxations will again create tension on roads.
Meantime, the government had directed closure of non-urgent central and state government institutions. Goods vehicles will not be stopped. Shops selling food items can open till 7.30 pm. However, the government directed all shops to encourage home delivery system and asked local bodies to take the initiative for it.
Banks, insurance and financial institutions can function till 1 pm. Home nurse and palliative care workers can go for work. All educational institutions and places of worship will remain closed. Petrol pumps and cold storages can function. Crowded religious, political, social, recreational, sports and events will be banned.
Permission has been granted for agriculture, horticulture, fishing and animal husbandry to function. Only 20 are allowed to attend a wedding. Emergency equipment repair shops can be opened. There will be no interruption in electrical and plumbing services.