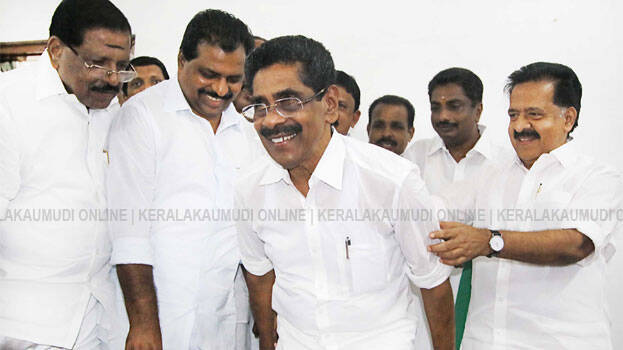 THIRUVANANTHAPURAM: Sources indicate that opposition leader Ramesh Chennithala and KPCC chief Mullapally Ramachandran are not likely to step down from their positions. With this, the calls for change in leadership that erupted following the humiliating defeat of the party in the assembly polls might end up in vain. The leadership which was successful in raising the matter of total change in the party organization, however, was silent over the change in leadership during the meeting of the political affairs committee.
Other leaders who expected that Chennithala and Mullapally might show the willingness to resign, got disappointed when the meeting began. It is indeed a usual convention seen in Congress party to relieve PCC leaderships if the party gets defeated in the polls, in the last Lok Sabha polls, Rahul Gandhi has also followed the same.
Following the calls for Mullapally's resignation from the lower levels of the party, the high command has also asked the senior leader to step down. But Mullapally picturised such calls as part of group politics in the party.
Mullapally was also accompanied by opposition leader Ramesh Chennithala who was also unwilling to resign. At one point, Chennithala even compelled Mullapally to withdraw from the decision to resign. Even the party's workers expected that both leaders might resign during the meeting of the political affairs panel, but both of them who took up the responsibility of defeat were successful in drifting the attention of other leaders from the issue of their resignation.
When the demand for a total change was raised in the party other senior leaders including K Muraleedharan and K Sudhakaran supported it. Only PJ Kurain has demanded the resignation of both leaders but he didn't receive the support of others.
It will take time for the political affairs panel to hold a meeting post lockdown and to further implement the guidelines for reorganisation from the party's lowest levels. For the Congress party, internal reorganisation is a laborious and time-consuming activity. Until then, Mullapally can continue in the party's top post. If the cabinet is formed on the 20th, then Chennithala will also continue in the position of the opposition leader as no significant opposition was not witnessed in the party.
Currently, the 'I' group which has 12 MLAs have a majority in the parliamentary party. Even though V D Sateeshan's name was initially heard in the party as Chennithala is continuing, dissenting voices may not arise. It remains to be seen if the 'A' group which has only eight MLAs will counter the move. The high command's decision on the issue will be also crucial.