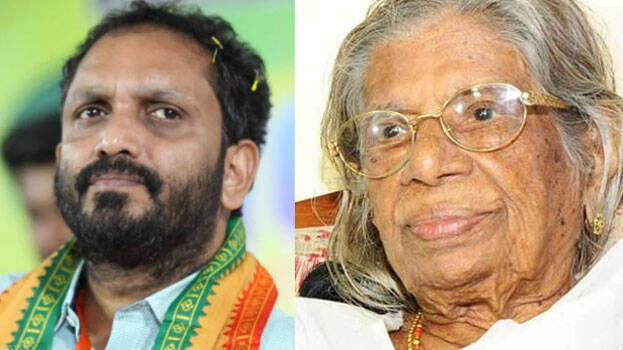 ​​​​​​THIRUVANANTHAPURAM: BJP state president K Surendran expressed condolence over the demise of veteran political leader K Gowri Amma. "Gowri Amma who got into politics from the time of her student life was a hallmark of women's strength in Kerala politics. She was a real fighter," K Surendran said.
"Gowri Amma entered into politics through trade union activism and through farm workers union when there was no political representation for women in Kerala. Agriculture Reforms Act, Eviction Abolition Act, Land Reforms Act, Women's Commission Act, Anti-Corruption Act are her contributions which later changed the social and economic atmosphere of post independent Kerala society," he said.
"Gowri Amma who handled ministries like agriculture, social welfare and industries had proved during her ministership that she is an able administrator. She was elected for 11 times, which indicates her popular support. She was even considered for the chief minister's post. Malayalees are still pained over the tragedy of her family life which occurred due to the political infighting between two communists organisations," he said.
"At last when her own party ousted her, she fighted alone. She formed a political party called JSS. Gowri Amma's demise, who made her life a struggle is an irreparable loss therefore am joining with her colleagues in their loss," Surendran said.