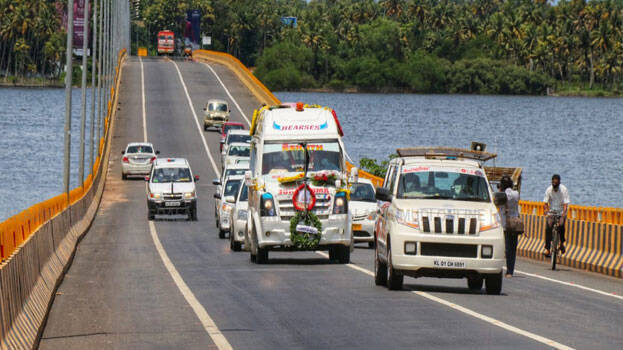 ​​​​ALAPPUZHA: The procession bearing Gowri Amma's dead body finally reached in her homeland--Alappuzha. Her dead body was kept in Ayyankali hall, Thiruvananthapuram and later was taken to Aroor in Alappuzha. As the journey was undertaken as per covid protocol, it was not halted anywhere enroute to Aroor for displaying the body anywhere.
Kerala's revolutionary Joan of Arc will be cremated in Valiya Chudukad at evening 6 pm.
The party doesn't have the convention of burying someone in the Valiya Chudukad who have left the party. But the veteran leader wished to get buried in Valiya Chudukkad crematorium. When the news of her demise was publicised in the morning itself, local leaderships of CPI and CPM decided to cremate her in Valiya Chudukad.
The public display of Gowri Amma's dead body was arranged in Ayyankali hall, by issuing a special order defying the restrictions imposed by covid protocol. Chief Minister Pinarayi Vijayan, Governor Arif Muhammed Khan, Opposition leader Ramesh Chennithala paid homage to the communist stalwart. The red flag was worn on the dead body of Gowri Amma by M A Baby and state CPM secretary A Vijayaraghavan.