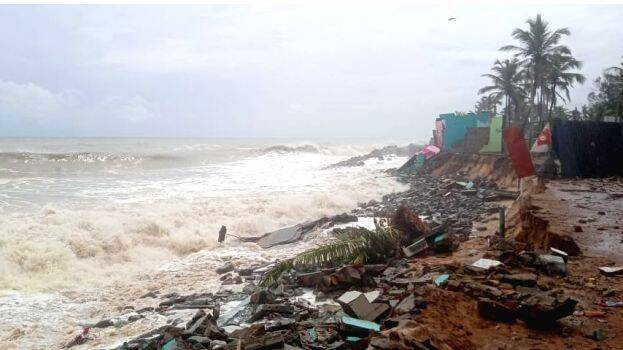 THIRUVANANTHAPURAM: Chief Minister Pinarayi Vijayan told the media that the state is ready to face emergency situation following the cyclone warning. "Tonight is very crucial. Extreme levels of rainfall are expected in the red alert districts", he said.
The Chief Minister said that NDRF teams have reached the state and extreme vigilance should be maintained.
"The low pressure area formed in the Arabian Sea is getting stronger and is turning into a hurricane. Extreme levels of rainfall, strong winds and rough seas are expected until May 16. Government agencies and the people must be extremely vigilant. Tonight is crucial. Districts that have been declared red and orange alert by the Meteorological Department will receive heavy rains. Kannur and Kasaragod districts may be directly affected by the cyclone. Strong winds are also expected in nearby districts. Dangerous trees and boards should be removed. Everyone should take care of the trees in their own house and cut the branches if necessary. Cities and low-lying areas are likely to experience flooding if heavy rains continue", the CM said.
The CM requested the people to be ready to move from their homes to the camps if requested by the officials.
Various divisions and departments are ready to deal with emergencies across the state. Nine teams of Disaster Response Force have been deployed in different districts. One team of the force will reach Kasargod and two teams will reach Kannur. Two teams will be on standby in Thiruvananthapuram and an engineering team will be on standby in Bengaluru. Two aircrafts of the Air Force are ready for rescue operations. The ban on fishing will continue for the time being, the CM said.