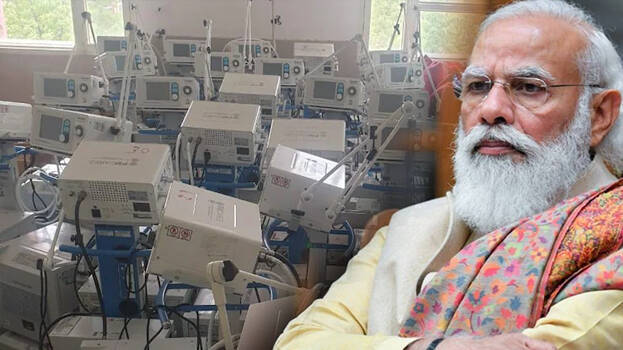 NEW DELHI: Narendra Modi's orders has kickstarted an "immediate" audit of installation and operational status of ventilators provided by the central government under different schemes including PM Cares.
This comes after Congress-ruled Punjab and Rajasthan said the ventilators supplied to them under PM Cares were found "defective and sub-standard" by hospitals that used them. A Rajasthan minister called the ventilators manufactured in India as "kabaad" or junk.
The Punjab government claimed that anaesthetists in its hospitals were not confident of using them even after repairs. Heads of three Punjab government medical colleges claimed that at least 237 of the 320 ventilators received through the PM Cares Fund were defective and non-functional.
Punjab's Covid-19 response and procurement committee head Dr Raj Bahadur last week said, "The Patiala medical college got 98 ventilators from the PM Cares Fund. Of these, 48 were functional after repair, but they are still not in use because the anaesthetists are not confident as they fear the machines may break down and jeopardise the lives of patients."
Union health ministry strongly contests the charges. It said there was nothing wrong with the ventilators supplied under Prime Minister's Citizen Assistance and Relief in Emergency Situations (PM Cares) Fund. The ministry claimed the states mismanaged their utilisation that included keeping the machines unutilised or uninstalled in their stores for almost six months while Covid-19 patients were gasping for breath due to shortage of ventilators.
In a precursor to the audit exercise, Union health secretary Rajesh Bhushan has written to all state chief secretaries a strong letter flagging the need to start operating the ventilators lying uninstalled and a detailed dos and don'ts for optimal use of the machines supplied.
Bhushan said the assessed requirement in April 2020 was worked out at 60,000 ventilators and depending completely on the "demand raised by states ventilators were allocated and delivered in 2020".
He said, "It has been found that there is a large gap between ventilators delivered and installed. It is understood that the non-installation is primarily on account of large number of them lying in warehouses, delay in allocation, preparing location for installation, absence of connectors with hospitals, lack of piped oxygen electrical fittings and trained manpower."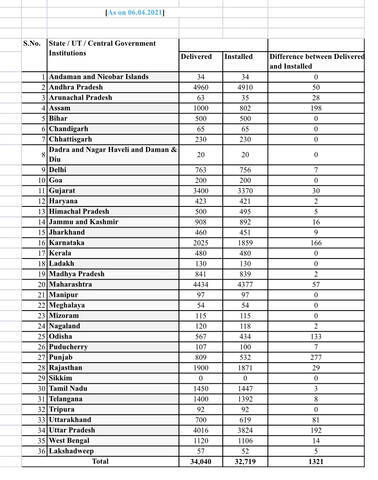 RAMPAGING PANDEMIC VS IDLE CRITICAL EQUIPMENT
Is it just another case of states and Centre sparring? Did the ventilators supplied to states under PM Cares to fail the users or did the users fail to operate the ventilators or is it politics failing the patients?
CAPACITY WASTED AS PATIENTS SUFFERED
After Covid-19 hit India last year, the Centre ordered 60,858 ventilators — sensing that there was a need to augment the numbers — of which 58,850 were made in India.
Under the PM Cares scheme 50,000 were procured, and 49,960 were allocated. Of these, 43,788 dispatched to state governments or medical facilities. This included nearly 12,000 ventilators supplied after April 7.
Data accessed by India Today TV showed that of the 43,788 ventilators dispatched, only 38,803 were installed by April 6. This means that about 5,000 ventilators which stand between life and death of a patient were or are yet to be installed.
As the second wave of Covid-19 started rampaging by March-end and people in despair started lining up at medical facilities looking for beds, oxygen and ventilators, the Centre alarmed at the crumbling infrastructure created a dossier on the status of ventilators supplied and installed in states.
On April 11, the Union health secretary fired a letter to states which had received ventilators from the PM Cares and other schemes as early as October 2020 to act on the ventilators lying idle in their possession.
On April 6, as per Union health ministry data, 3.9 per cent ventilators provided were lying idle or uninstalled. But this was the national average.
Arunachal Pradesh was provided 63 ventilators and hadn't installed 28 i.e. 44 per cent of the ventilators supplied. Uttar Pradesh had received 4,016 by October but did not install 192 or nearly 5 per cent of them.
Odisha received 567 but had not installed 133 or 23 per cent of the ventilators. Other states which had high number of uninstalled ventilators by April 6 were Karnataka, Assam, Gujarat, Maharashtra and Rajasthan.
In the recent days, the Punjab government and medical institutes in the state have mounted a huge criticism of the quality of ventilators supplied under PM Cares scheme. There have been complaints of ventilators crashing during use, or supplying inadequate amount of oxygen flow to patients.
However, documents and chronology of events accessed by India Today TV reveal another dimension to the crisis.
The first batch of 25 ventilators from the Centre reached Punjab government's central store on October 8, 2020. By October 28, 2020, 75 more had reached the Punjab central store.
Health ministry sources say that the manufacturer of those 100 ventilators, Jyoti CNC, a Gujarat-based company confirmed that since October, several communications were sent to the Punjab government to find when the ventilators were to be installed. Sources say that during a video conference the Punjab government officials even bluntly claimed that they can be taken back and were not needed.
In April this year, Union health secretary wrote a letter to Punjab chief secretary Viny Mahajan asking the state to speed up the installation of 251 of the 809 ventilators supplied to the state saying that "non commissioning of the ventilators defeats the purpose" of fight against the pandemic.
Finally, nudged by the Centre, the Punjab government started allocating the ventilators after six months had lapsed since supply, and when the second surge was claiming victims.
It was on April 23 that the Punjab Health System Corporation or PHSC allocated 50 ventilators to the government medical college in Patiala, and the rest 50 to the government medical college in Amritsar.