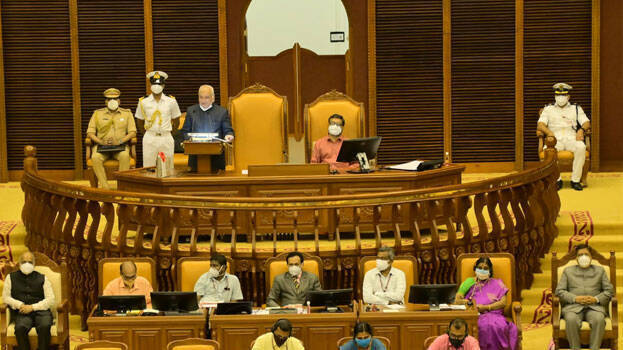 THIRUVANANTHAPURAM: Governor Arif Mohammad Khan said the unprecedented Covid pandemic is throwing a big challenge. He was delivering the first policy address speech of the second Pinarayi Government. The packages announced during Covid times were a relief to the people. The welfare activities of the people will continue, he clarified in the policy address speech.
Covid prevention activities will continue strongly. The aim is the upliftment of those in the lower level. The government policy is free vaccine for all. Public support for the vaccine challenge is exemplary. The government has started the process of inviting global tender for the vaccine.
The economy needs to improve despite Covid challenge. It is an achievement we have been able to contain the death toll. The government will give priority to women's equality. The governor said the government would stand for democracy and secularism.
In his address, the governor said the production of vegetables in Kerala will be increased to attain self-sufficiency in it. Farmers' income will increase by 50 per cent. He said the support price would increase every year and the possibility of farming would be brought in the city.
All Krishi Bhavans in the state will be converted to Smart Krishi Bhavans. Agricultural production will increase by 50 per cent in five years. The K Phone project will be implemented in a time bound manner. Projects including K Phone will change the course of the state. Info and Techno Parks will be developed. The governor also pointed out that multinational IT companies are coming into the IT sector.
Food kits costing Rs 400 crore were distributed to 19 lakh families. An amount of 1,000 crore has been set apart for a comprehensive package in the health sector. A loan of 2,000 crore was given through Kudumbasree. In his policy address, the governor said Rs 14,000 crore had been set aside to settle arrears including pensions.
Governor Arif Mohammad Khan, who arrived in the assembly this morning, was received by a Guard of Honour. He was then escorted to the assembly by Speaker M B Rajesh, Chief Minister Pinarayi Vijayan and Minister K Radhakrishnan. This was followed by the Governor's policy address.