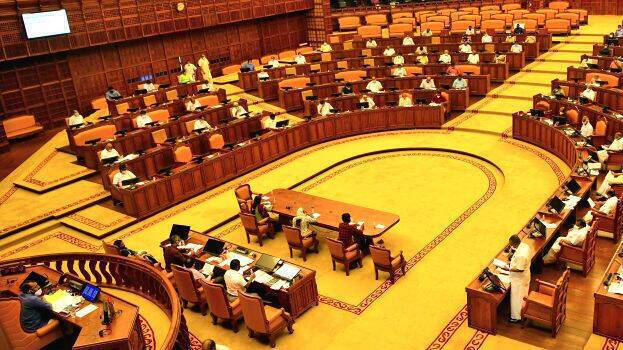 THIRUVANANTHAPURAM: Chief Minister Pinarayi Vijayan has said that the centre is trying to impose corporate and saffron agendas in Lakshadweep. "Even the lush green coconut trees are turning to saffron. The incumbent administrator is trying to destroy the ethnic life of the people and also the island's unique ecosystem," the chief minister said presenting the resolution. The resolution was passed after incorporating the amendments proposed by the opposition.
The resolution demands to remove the controversial administrator Praful Khoda Patel and seeks immediate intervention of the central government to provide necessary protection for the life and livelihood of the island's people. The resolution was presented as per the provisions in rule 118.
The resolution says that the primary duty of an administrator appointed in a democratic system is to protect the life and property of the people but instead, the administrator using his official capacity was engaged in efforts to sabotage the life of people in Lakshadweep. Such malicious efforts deserve only protest and condemnation.
The resolution further says, "Draconian laws like the Goonda Act were imposed on the island, which is known for zero crime rates, and its people who are known for their warm hospitality. The banners and posters erected in the island against the citizenship amendment bill were removed and people who wrote them were arrested."
It was to protect the unique ecosystem and ethnic culture of the island's people that restrictions were imposed on outsiders from buying any property in the islands. This law also exists in other sensitive parts of the country as well. But the current slew of reforms is intended to change it.
It also says that the lifestyle of people and their unique culture is somewhat similar to Kerala. Malayalam is their most important language. Most of the schools on the island are either English or Malayalam medium. Most of the government institutions including the high court for which the people depend are located in Kochi. The goods needed for the island are transported either through Kochi or Beypore ports. Now organised efforts are being made by the centre to destroy even the island's historical ties with Kerala.
"Most of these communal and divisive actions were taken as per the directions of the destabilising forces in the country which impedes even the national unity. When the current state of affairs in the island is evaluated under this historical background, Kerala is concerned over the future of Lakshadweep. The ongoing activities in the Lakshadweep have made the pristine island and its innocent people into Sangh Parivar's experiment lab. Sangh Parivar is trying to alter the unique culture of the people, their food habits, lifestyle in accordance with theirs," the resolution read.