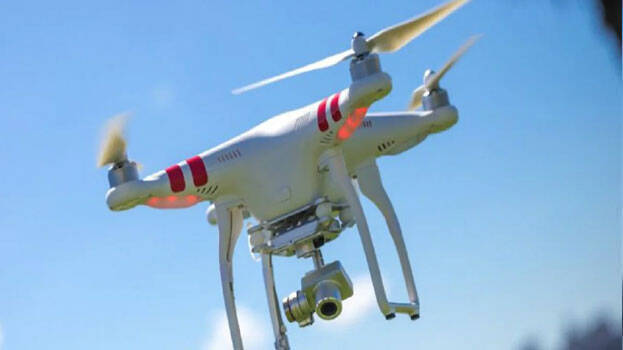 ​​​​NEW DELHI: The central government has come up with an innovative plan to distribute vaccines to the far-flung areas of the nation. The current move is intended to ensure vaccines for all Indian citizens. As part of this, the centre has decided to use drones to carry vaccines to the remote corners of the country where adequate transportation facilities are not available.
Indian Council of Medical Research (ICMR), one of the premier institutions at the forefront of India's fight against coronavirus, had conducted a successful feasibility test in collaboration with the Indian Institute of Technology, Kanpur.
Finding merit in the prospect, HLL Infra Tech Services, a Miniratna PSU tasked with procuring vaccines for central government, has invited bids for delivering medical supplies using unmanned aerial vehicles (UAVs) to remote locations with difficult terrain, on behalf of ICMR.
HLL Infra Tech said the objective of the venture is to develop a medical supply network using drones to ensure the delivery of vaccines and other medical essentials to remote, inaccessible areas in India.
"To strengthen the delivery of vaccines, ICMR successfully conducted a feasibility study to deliver vaccines by Unmanned Aerial Vehicle (UAV) in collaboration with IIT, Kanpur. Based on the preliminary results of the study, ICMR has developed a standard protocol for the successful delivery of vaccines using a UAV," HLL Infra Tech said in the bid document.
"Now, based on the experience gained in the feasibility study ICMR is keen to develop a model for vaccine delivery by UAV in the field practice area to reach areas to cover last-mile coverage at difficult terrain in selected locations," it further added.
The PSU opened bids on June 11; the bids will have to be submitted online through Central Public Procurement Portal. The deadline to submit expressions of interest for this venture closes on June 22 at 1 PM. Received online bids will be opened on the same day at 1:30 PM.
ICMR will engage UAV operators to fly drones with medical supplies as payload beyond visual line of sight (BVLOS) and deliver them along a fixed pre-defined flight path.