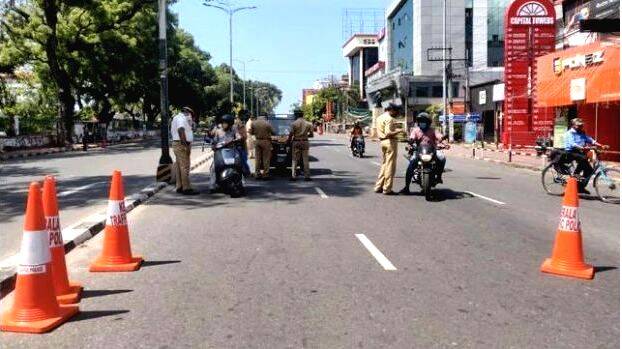 THIRUVANANTHAPURAM: Chief Minister Pinarayi Vijayan told the media that the lockdown system will be changed in the state. The decision was made to impose local restrictions according to the severity of the spread. The CM said a decision on the implementation of the lockdown concessions would be taken the next day.
"The current lockdown will continue until the 16th. The spread of the disease has been reduced as intended. The lockdown strategy will change in the coming days. The same level of restrictions and inspection is currently in place across the state. The intention is to change that and impose different restrictions depending on the severity of Covid spread. In view of the new situation, the local bodies will be classified according to the extent of the spread of the disease and preventive measures will be taken. Details will be announced the next day", the CM said.
"Testing will be increased. A new campaign is being considered. The disease is now spreading from homes. We will take steps to prevent it. There are no vaccine facilities within 10 km of 119 Adivasi colonies. Camps could not be held there either. Special camps were conducted in 362 colonies. It was suggested that the camps should be completed soon in the remaining ones", he added.
The Chief Minister claimed that the increase in the number of deaths was proportional to the increase in the number of patients. Pinarayi said that most of the dead were seriously ill.
"People with diseases such as diabetes should not compromise on preventive measures. The reduction in mortality is due to the improvement in the health system. We are trying to contain a highly contagious virus. We need mass solidarity to stop the third wave. This cannot be achieved with lockdown alone", Chief Minister warned.
"The lockdown is generally complete in the state. Realizing the seriousness of the matter, I would like to thank everyone who cooperated with the lockdown regardless of the inconvenience. The presence of a high-spreading delta virus may persist for a long time. People must abide by the Covid code of conduct even if the lockdown is withdrawn. Those who have been vaccinated and recovered from the disease may get infected due to the delta virus. These people have less severe symptoms and less risk of death. But will require quarantine and treatment", the CM said.
The CM also said that those who have been vaccinated and those who have been cured should follow the Covid code of conduct.