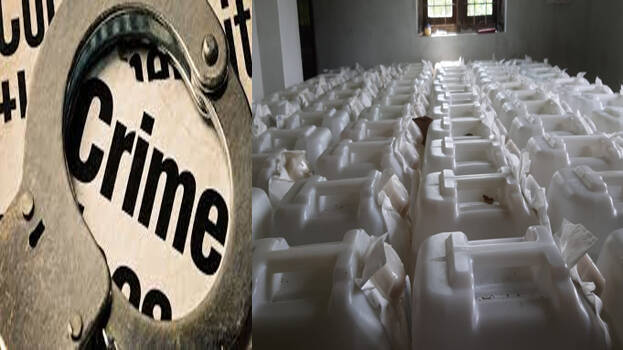 KASARAGOD: Bekal police arrested two persons with 2100 liters of spirit smuggled in a fish lorry. Zakir Manzil Mubarak (30) from Thumminadu in Manjeswaram and Imran (25) of Amina Manzil in Kunchathur were arrested. The spirit was seized at Palakunnu at 1.40 am Wednesday under the leadership of DySP KM Biju.
The spirit was transported in 60 cans of 35 litres in an isolated mini container lorry loaded with fish. Keralite in the smuggling gang loaded the spirit in the lorry in Mangalore. Mubarak and Imran were instructed to unload at Ramanattukara in Kozhikode. Before reaching Kannur at night, they received a message that there is a problem on the way. They were arrested on their way back.
The lorry was stopped on the basis of confidential information and the police arrested the accused. During interrogation, they admitted that they had smuggled spirit several times before. The police said that they have identified the Malayali who smuggled the spirit and the investigation will be intensified to nab him.

Spirit's intended destination was Thrissur
The spirit was to be delivered to the secret godown of the famous Abkari in Thrissur. Once the spirit reaches Kannur, it was to be taken to Thrissur in another vehicle. The return travel of the fish lorry was due to a dispute over handing over the spirit in Kannur.