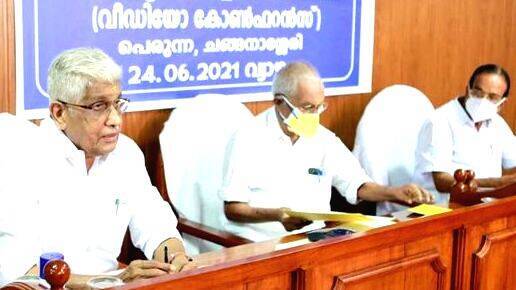 CHANGANASSERY: NSS general secretary G Sukumaran Nair has presented an annual budget, which envisaged an income and expenditure of Rs 132 crore to the organisation. Last year, he had presented a budget of Rs 131 crore.
The budget expects an income of Rs 26.25 crore from the capital sector and Rs 105.74 crore from the revenue sector. It also kept aside Rs 45.30 crore for the capital sector and Rs 86.69 crore for the revenue sector.
The budget meeting and election were held online at 9.30 am at the NSS headquarters in Perunna under the leadership of General Secretary G Sukumaran Nair. President Advocate PN Narendranathan Nair presided over the function. Treasurer Dr. M Sasikumar and Returning Officer Adv Anil D Kartha were also present at the function.
Maintenance works and Convention Center at Perunna: Rs 12 crore
Aided school repair works: Rs 3.61 crore
Attingal and Thrissur New Working Women's Hostel: Rs 1 crore
Furniture and other materials: Rs 15.60 lakhs
Library and Laboratory: Rs 14.14 lakhs
Maintenance of aided colleges: Rs 1.66 lakhs
For a new course in aided colleges: Rs 2 lakhs
Equipment at Pandalam NSS Hospital: Rs 72 lakhs
Perunna Medical Mission Hospital: Rs 15 lakhs
Renovation of Guruvayur guest house: Rs 15 lakhs
For new crops: Rs 1 crore