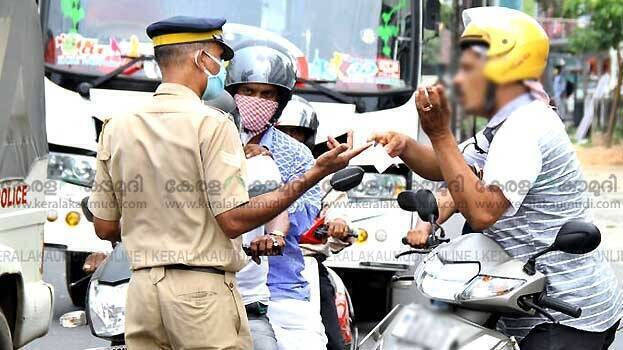 THIRUVANANTHAPURAM: In order to complete the quota, the police are levying fine on people in the name of epidemic control. They are not even sparing those not being able to find money to meet their daily expenses. A heavy fine was imposed on people who lowered their mask to drink tea. A fine will be imposed even if you stand in front of your house without wearing a mask. Crores are flowing to the exchequer after squeezing starving people.
The police are imposing fine to strictly follow the order of their higher officials to pay a certain amount of fine one day. All police stations in the state have been instructed to meet quotas. The special directive of top officials is not to empty the treasury in Covid crisis. If they do not comply with the directive, strict action will be taken. Fearing this, the poor cops will fine everyone they see on the way. Even those who do not wear helmets are charged for violating the epidemic control. The police and sectoral magistrates have been given more powers under the new Epidemic Control Act. Violators face up to two years in prison or a fine of up to Rs 10,000 or both.
Another liking of the police is to file cases in the name of not maintaining social distance even if they maintain social distance. If you question this, verbal abuses will be hurled. Not only that they snatch things carried by the people and throw it away. The police had snatched and dumped the fish sold by a woman in Parippally and was charged for violating the infectious diseases act.