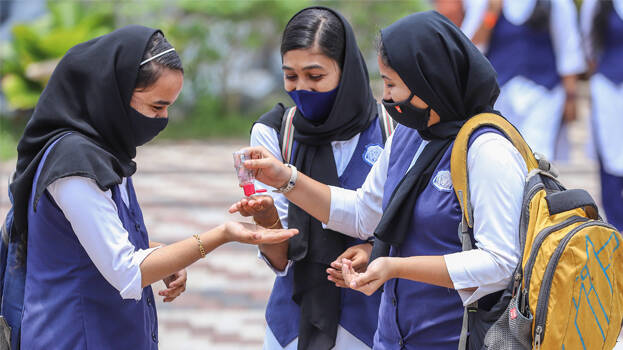 THIRUVANANTHAPURAM: Minister V Sivankutty has said that uniforms are not mandatory for students appearing for the Plus One examination. Students will be admitted through an entrance gate. There will be a system to provide sanitizer at the entrance and check the body temperature using a thermal scanner. The minister said the services of non-teaching staff, PTA members, health workers and SSK staff would be utilized.
In the context of Covid, the decision was made to conduct the examination in compliance with strict health and safety standards. It was decided to keep the examination hall, furniture and school premises clean and disinfect before the 22nd. The assistance of the Department of Health, PTAs, NGOs, Fire Force and Local Governments will be utilized for this purpose. The exam hall layout will be displayed at the entrance to enable the students to reach the examination hall without any assistance. It will be ensured that students do not congregate before and after the exam.
If the students who are Covid positive appear for the examination, the information should be communicated to the health workers in advance and the Chief Superintendent should take steps to make the PPE kit available to the students and the concerned invigilators. These children will have to write the exam in a separate classroom.
Students with high body temperature and students in quarantine should write the exam in separate classrooms. Transfers of pens, calculators, etc. are not allowed in the classroom. Notice of what students should and should not do will be displayed at the entrance, both inside and outside the examination center. A micro-plan should be prepared in all schools under the guidance of the Regional Deputy Heads to ensure that the Covid safety standards are met. Air-conditioned classrooms will not be used for the examination. Ventilated and well-lit classrooms will be used for the examination.