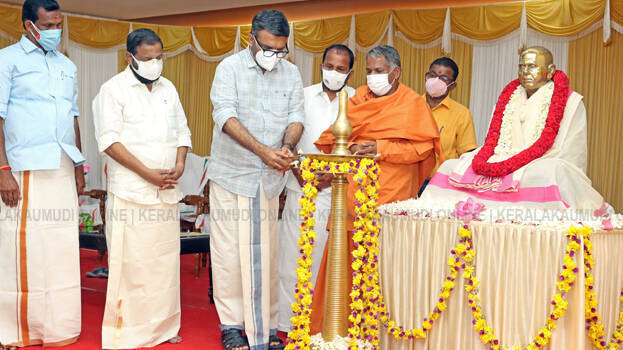 THIRUVANANTHAPURAM: Sree Narayana Gurudeva's visions and thoughts are an effective vaccine against the virus of communalism, said Speaker M B Rajesh. He said this while inaugurating the 94th Samadhi celebrations of Sree Narayana Guru at Chempazhanthi Gurukul.
This is the time when the visions of Sree Narayana need to be lit like never before. Guru laid the foundation stone of modern Kerala through Aruvipuram idol. Guru who committed ritual violation and ritual criticism, criticized Shankaracharya for perpetuating casteism in human beings. This is the land of Gurud who called Islam brotherhood and Christianity love. We must be careful to constantly remind such people of such thoughts, even if they forget. Guru travelled before time and the world.
Religion is being used to gain political power. That is what we have seen in Afghanistan and more recently in India. Guru supported inter-caste marriages. Centuries later it came to be known as Love Jihad. At that time there was no organized force to oppose the actions of Guru. However, the speaker pointed out that today an organized force is emerging in the name of religion.

Kadakampally Surendran MLA presided over the function. T N Prathapan MP delivered the keynote address. V K Prashanth MLA, councillor Chempazhanthi Udayan, Sree Narayana Gurukul secretary Swamy Shubhamghananda and Shaiju Pavithram spoke on the occasion.