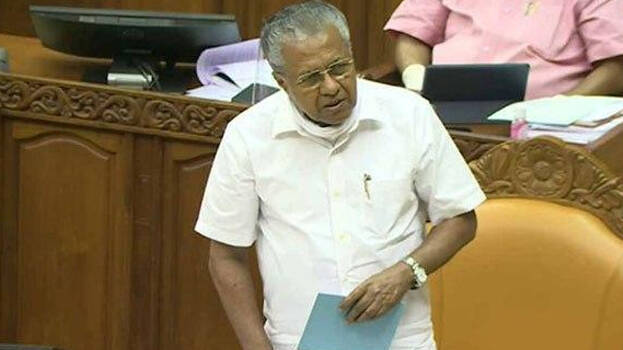 THIRUVANANTHAPURAM: The Kerala Assembly on Tuesday witnessed some heated exchanges between the ruling front and the opposition UDF over Monson Mavunkal, arrested in the antiques case. Chief Minister Pinarayi Vijayan while replying to the notice for an adjournment motion moved by the opposition demanding a probe on the links between top ranking officials and Monson Mavunkal, took a dig at KPCC chief K Sudhakaran. Without naming anyone, he said all in Kerala know who was the one who had gone and stayed there for treatment. There may be many who had gone there without knowing that he is a fraudster. There will be some who had deliberately helped him. The police have to probe all this. The chief minister, who said the issue in congress should not be solved at our expense said don't know why P T Thomas mentioned the name of KPCC chief there.
Congress legislator P T Thomas moved a notice for the motion urging the government to discuss the matter in the assembly after suspending other businesses. The opposition alleged that the government tried to deceive people by fabricating the chembola regarding the rituals at Sabarimala. Monson and the government with the help of a channel tried to deceive the people. Sharp criticisms were showered against former DGP Lokanath Behra. The opposition asked how Modi's loyalist Behra become Pinarayi's close confidant. However, the chief minister took a stand supporting Behra.
The chief minister who asked if the opposition had a complaint in the investigation, said the name of the police officer has not been mentioned in the complaint against Monson. He told the assembly that if police officers are involved in the scam, there would be no leniency and strict action would be taken against them. The allegation that Chembola was misused by the government is not true and the fact that Chembola was forged will also come under investigation. The chief minister said the Archaeological Department has been asked to examine the forged document.