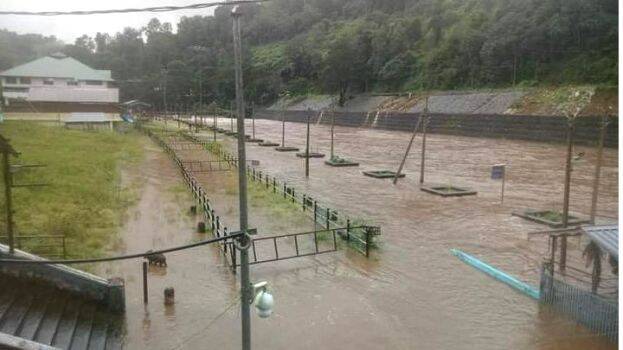 THIRUVANANTHAPURAM: The reopening of higher education institutions has been postponed from October 18 due to heavy rains. Colleges will open from the 20th. The high-level meeting convened by the Chief Minister also decided to stop the Sabarimala pilgrimage till then on the back of a warning that the rains would continue till the 19th.

The high-level meeting convened by the Chief Minister decided to intensify rescue operations in all areas where heavy rains continue. All government agencies will step in for this. During the meeting, Chief Minister Pinarayi Vijayan suggested that immediate action be taken to evacuate people from areas prone to landslides and floods.
"Traffic is restricted in hilly areas. Every possible means will be used to rescue those trapped in the rain-hit areas, including Kottayam district. The meeting evaluated the progress of rescue operations. The current situation is serious. But the latest weather forecast is reassuring. It is a sign that we are not going to get worse," CM Vijayan said.
"Camps must be started in accordance with Covid norms. Special care should be taken in this regard. The number of camps can be increased. Masks and sanitizers should be ensured in the camps. Special arrangements should be made for cleaning toilets. Adequate fresh water should be made available. The attention of health workers should be focused on the camps. There should be enough medication. Particular caution should be exercised in the case of non-vaccinated and patients with associated diseases. The coastal region should be warned from time to time. Care should be taken to evacuate people from disaster-prone areas", he added.
"The National Disaster Response Force is currently providing good assistance. Those in need should contact them. The Army, Navy and Air Force have been instrumental in helping the state in times of disaster. They should all be used in unison", the CM said.
"Boats required for rescue operations should be prepared. Local bodies should prepare a list of boats available to them. These should be used promptly when needed. Districts should take the necessary steps for the utilization of SDRF funds".
The CM suggested that the water level monitoring of the dams should be strengthened. "Those who are required to be relocated should be warned. There shouldn't be a situation in which they are asked to move quickly. It is important to be informed in advance. The District Collector, the Electricity Department and the Water Authority should work together in this regard. Care should be taken not to cause problems in the power supply", he said.
"A red alert has been declared in Palakkad district as well. Precautions should be strengthened there. The fire force was directed to hire motor pumps if necessary to drain the water", CM said.
Minister of State for Revenue K Rajan, Chief Secretary Dr VP Joy, State Police Chief Anil Kant, secretaries of various departments, chiefs, district collectors, representatives of various Armed Forces and representatives of the National Disaster Response Force spoke in the meeting.