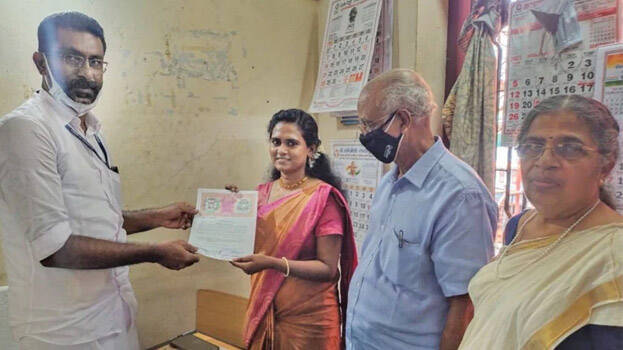 PUNALUR: While the groom is in Ukraine, the bride is in Kerala...The sub-registrar office in Punalur witnessed the first online wedding in the state. Bride Dhanya Martin, who reached the sub-registrar office, was 'lawfully' wedded to Jeevan Kumar.
The function took place under the supervision of sub-registrar TM Firoz. The marriage certificate was handed over to the bride soon after the function. Jeevan, a native of Punalur, works in Ukraine. The couple decided to opt for the online wedding as Jeevan was unable to come to Kerala due to the Covid crisis.
Jeevan and Dhanya had submitted an application in March to register the marriage according to the Special Marriage Act. However, Jeevan was unable to return to Kerala during this period. Following this, the relatives approached the High Court seeking to extend the validity of the application. They also demanded that the marriage must be officiated through video conference by avoiding the rule of the presence of both bride and groom in the sub-registrar office.
The court then sought the views of the government, the foreign ministry and the IT department. With the court giving a favourable verdict, the Punalur sub-registrar office became the venue for the first online wedding in the state.