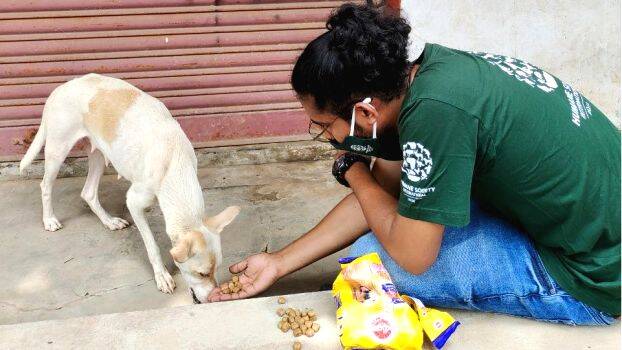 ALAPPUZHA: Under the influence of low-pressure over the South-East Arabian Sea, the state of Kerala received extreme rainfall of over 200mm in several districts in a span of 24 hours. The sudden onset of rains from the 16th of October 2021 has resulted in landslides and flash floods in multiple locations. A total of 39 deaths were reported with many missing in Idukki and Kottayam districts as of 22nd of October.
Humane Society International/India (HSI/India), in collaboration with the Department of Animal Husbandry, is undertaking efforts to provide relief to affected animals. While the National Disaster Response Force, Indian Army, Air Force, and Navy have been deployed to aid people, HSI/India is distributing essential materials such as nutrient dense fodder to livestock owned by pastoral farmers and food to stranded streets dogs.
HSI/India is currently focusing on Alapuzzha district, one of the four worst affected regions in Kerala where more than 700 families with over 4,000 cattle need cattle feed. The organization, with Kerala State Disaster Management authorities, has also been actively creating awareness by circulating posters and videos on animal care before, during, and after disasters in the affected areas.
Praveen Suresh, manager for disaster response and relief of HSI/India said; " I am grateful to the animal husbandry department and the KSDMA for coordinating with animal protection groups such as HSI/India. Animals are an important part of our ecosystem and source of livelihood for many in the state and it breaks my heart to see the suffering. We are fortunate to be able to provide with whatever help is necessary."
Humane Society International/India has also responded to disaster in times of, natural calamities like during Chennai flood in 2015, Nepal earthquake 2015, Kerala and Karnataka floods 2018, 2019 and 2020 along with helping animals during COVID19.