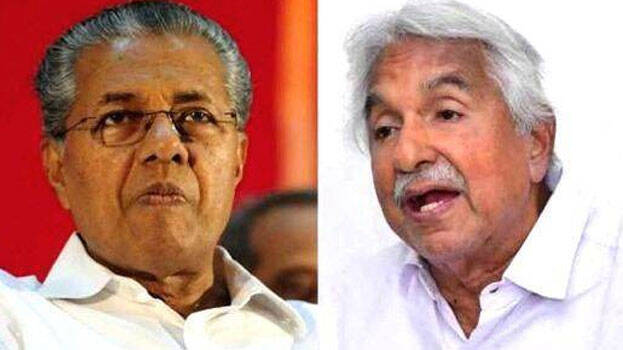 Former Chief Minister Oommen Chandy has sharply criticized the state government's K Rail project. Oommen Chandy wrote on Facebook that if K-Rail is to be implemented by force, a heavy price will have to be paid.
Oommen Chandy's Facebook post-
The Prime Minister who had to surrender in front of the farmers' agitation is a warning to Chief Minister Pinarayi Vijayan. If K-Rail is to be implemented by force, it will have to pay a heavy price. The move by the Government of Kerala to proceed with the land acquisition process for the K-Rail project without conducting a social impact assessment or environmental study is a challenge to the people.

It is unfortunate that the government is not yet ready to address the issue, despite serious concerns raised by the people and opposition parties against K-Rail in the Assembly and outside the House. In whose interest is the government insisting on implementing the project without even completing the initial steps, which will create an unaffordable financial burden on the state and create extremely serious environmental problems?

During the UDF regime, the Rapid Rail Transit (Suburban Rail) project was approved to provide better rail travel facilities by straightening curves and upgrading the signaling system along the existing railway line. It would cost less than Rs 8,000 crore to upgrade the signaling system. Without considering this possibility, the government is showing a compelling intellect to implement the new Silver Line project at a cost of over Rs 1 lakh crore.

Acquisition of thousands of hectares of land by evicting lakhs of people is not practical in Kerala. It is astonishing that the CPM, which strongly opposed the proposal of the South North Express Highway, became spokespersons for the Silver Line. When the protest against the Express Highway erupted, the UDF government withdrew from it in deference to the will of the people.

Although environmental studies and the permission of the Indian Railways and the Niti Aayog are mandatory, the CPM should consider whether it is right to throw lakhs of people into the streets just because they have the power to do so. The government is moving ahead with the threat of evictions without seeing the thousands of people who are in camps devastated by the unpredictable landslides and floods.

I'm asking the Chief Minister to withdraw from the K-Rail project, which is about to start without any discussion or permission from those concerned, and implement the UDF-era suburban rail project.