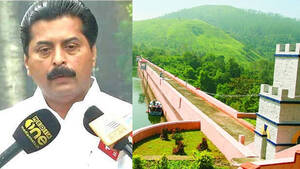 IDUKKI: Minister Roshy Augustine said that it is unpleasant that the shutters of the Mullaperiyar Dam were opened without warning. The minister said it was an unexpected move by a government and was not informed when the water was released and when the shutters were raised also.
Tamil Nadu not adhering to the procedures is to be seen seriously, the minister said. The matter has been brought to the notice of the chief minister and he will talk to Tamil Nadu government, the minister told media. Tamil Nadu did not follow the rule curve and will convey their complaint to the Supreme Court.
Meantime, Idukki MP Dean Kuriakose said Tamil Nadu is releasing water threatening the lives of the people. He added that the Kerala government should be the first to take the issue seriously.
Nine of the ten shutters that opened late last night were closed by 7 am. Then two more shutters were opened. Three shutters are presently opened. 1261 cubic feet of water is flowing out every second.