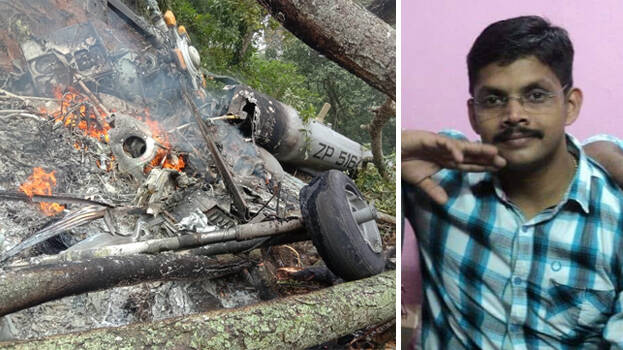 OOTY: A Malayali soldier was among those killed in a helicopter crash that killed 13 people, including Chief of Defence Staff Bipin Rawat and his wife. The deceased has been identified as A Pradeep, a native of Ollur, Thrissur. He was a junior warrant officer in the Air Force.
Pradeep joined the Air Force in 2004. He was serving at the Sulur air base in Coimbatore. General Bipin Rawat left for Wellington to speak at a seminar for junior cadet officers. Pradeep was one of the military personnel who accompanied him from the Sulur air base for this purpose.
The tragedy that shook the country took place at 12.20 pm today as the Air Force Mi-17 helicopter crashed. The Air Force confirmed the death of the CDS by evening. Thirteen of the fourteen people on board the helicopter were killed. Group captain Varun Singh's condition remains critical.
The accident happened on the way from Coonoor to Wellington Cantonment while attempting to land at Katteri Park between Coimbatore and Sulur. The preliminary assessment is that bad weather caused the accident. A high-level medical team also arrived at the scene.