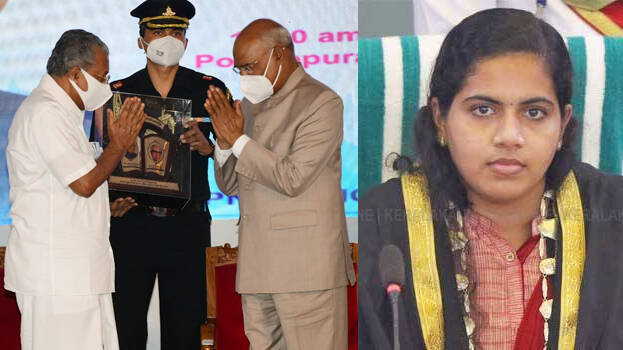 THIRUVANANTHAPURAM: State and central intelligence agencies may investigate security breaches during President's visit to Thiruvananthapuram. Sources said that the agencies will conduct an investigation regarding the incident where Mayor Arya Rajendran's car entered the President's convoy and the mistakes that took place during the unveiling of PN Panicker's statue at Poojappura.
The mayor's vehicle attempted to enter the President's convoy from Thumpa St. Xavier's College to the General Hospital. The attempt was to get the mayor's car was in front of the eighth vehicle near the general hospital. The vehicles behind had to brake suddenly.
A total of 14 vehicles accompany the President. According to the police and the Central Intelligence Agency, it was a near-miss situation. As the mayor's vehicle entered the convoy, other vehicles, including firefighters and ambulances was further pushed back.
The President was traveling in the second vehicle. As per the Centre's protocol, no other vehicle, no matter how large the VIP, is allowed inside the President's convoy.
It was also alleged that no water connection was provided in the toilet that was arranged for the President during the function at Poojappura. This had caused a delay in the function. It was also alleged that no seat was provided for the first lady at the venue of the inauguration ceremony.
Central and state intelligence agencies will prepare a detailed report regarding these incidents. The agencies have collected information from the organizers and concerned officials.