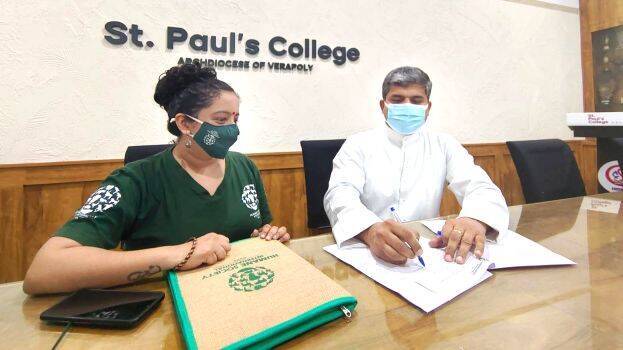 St. Paul's College, Kalamassery, Kochi, through their National Service Scheme (NSS) cell has collaborated with HSI/ India to promote animal welfare. This includes introducing animal welfare as a part of their curriculum, conducting seminars on various animal welfare issues and promoting animal welfare activities amongst students, and a 30% reduction in animal products during programs conducted by the NSS cell of the college.

Asst. Prof. Stalin P.C and Jixy Joseph and NSS Program officers are happy to collaborate with HSI/India, one of the leading animal welfare organizations of the country and to join hands to work towards kindness and compassion not just to humans but to all living beings. The students are very excited, and we hope to make a visible difference to the society through our work."
Sally Varma, assistant manager, Individual Outreach, Humane Society International/India said "We are delighted to partner with St. Paul's College, Kochi and look forward to having a fruitful association with the NSS unit of the college to sensitize the students and through them, the entire society on the animal welfare issues. Research shows that those who commit crimes against animals have higher disposition to commit crimes against human beings. It is very important to not look at animal welfare as an isolated issue. We look forward to making a difference in the society and making it more compassionate one with St. Paul's patnership."

As a part of the collaboration, HSI/India took part in the NSS camp that was conducted at the end of the year 2021 and took sessions on Animal Agriculture and its impact on the environment, public health, and animals. More than 100 students participated in the 7-day NSS camp, and the food served during the program was completely plant-based, without any animal products.

HSI/India has worked with more than 130 NSS cells of various colleges and universities across India during the pandemic to conduct awareness programs on animal welfare.