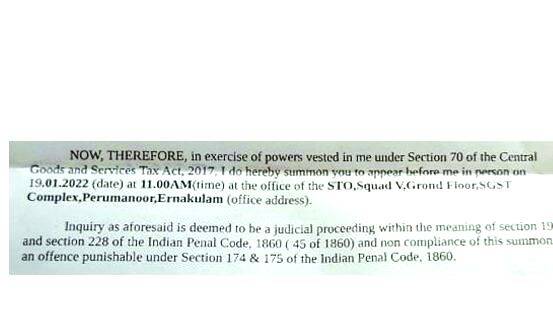 KOCHI: The state GST department has taken a bizarre step of issuing summons to consumers to appear in person with the bill after buying gold jewellery from jewellers. The summons was issued citing IPC rules. It has been alleged that this is to undermine the gold trade sector.
Tax experts say that if there is a discrepancy in the bill during inspection at a gold shop, explanation can be sought by first writing a letter or notice to the customer. If the explanation is not satisfactory, summons can be issued only as a last resort. However, the GST officials are intimidating people by issuing a summons as the first step.
The summons were issued under section 70 of the Central GST Act 2017 and sections 193 and 228 of the Indian Penal Code (IPC) Act 1860. Failure to appear is punishable under sections 174 and 175 of the IPC Act, 1860. Those receiving summons should appear in person at the SGST office in Perumanoor, Ernakulam.
No need to appear if bill is accurate
According to the GST department, the summons were issued to those with discrepancies in the pre-booked and purchased gold jewellery bill. If the bill is accurate, the issue can be resolved by contacting the GST authorities via phone or e-mail. There is no need to appear in person.
Rs 50,000 crore-gold jewellery turnover in Kerala in 2019-20
Rs 853 crore-Receive by the state government as GST
3%-GST on gold