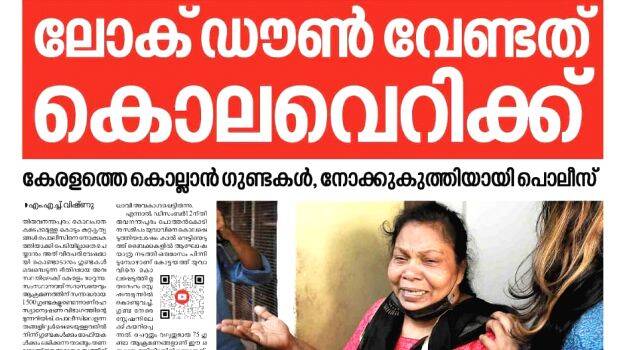 THIRUVANANTHAPURAM: The goons have flourished as the police have been weakened by dismantling the multi-tiered monitoring system from the inspector to the ADGP.
With the introduction of Inspector SHO, the young SIs were relegated. Inspectors are being employed to the do duties of SIs after getting promoted. The young blood cops who chased the goons are now controlling traffic and doing VIP duty.
Earlier, two stations were overseen by a CI. With that gone, the stations seem to be functioning without a structure. Most of the details of goons and regular criminals are not even available. It takes 7 years of case history to impose goonda act on someone. . The 'Operation Kaaval' announced by DGP Anil Kant to create squads at the stations and suppress the goons failed due to lack of coordination and supervision.
There are two and three SIs and more than half a dozen grade SIs in stations. SIs who have lost control of stations are not showing vigor in the work. Nine stations have a DySP but supervision is just namesake. Lightning inspection of DySPs at stations was canceled. The goonda list and the imposition of KAAPA act are no longer under the supervision of the DySPs.
Supervision in disarray
The four police districts had a Range DIG, overseen by the Zonal IGs and the Northern and Southern ADGPs.
This supervisory system was taken down and IG was appointed as the Commissioner of Thiruvananthapuram, Kochi and Kozhikode.
Appointed DIGs in the range.
The control of cities were taken away from the Zonal IGs.
Regional ADGPs were eliminated
The overall law and order duty was assigned to a single ADGP.
Vijay Sackhare, who is assigned with this task, is at the police headquarters
With this the districts became an empire of SPs.
The documents must be accurate
If all the documents are not accurate, goonda act cannot be imposed. There is no system in place to monitor deported goons and ensure that they do not enter their own district. Recently, a goonda deported from Kottayam brought the corpse of a youth he killed to a police station.
Shortcut to promotion
In 200 stations with more cases, jurisdiction, population and police posts, the recommendation to make inspectors SHOs was overturned and 468 stations were reformed.
243 SIs were promoted in one go. Officers in the junior batch became inspectors in four years. The reform that separates law enforcement and criminal investigation has not worked.
There are A, B and C category stations based on cases. The move is to replace the inspector in the C-category and make SI an SHO.