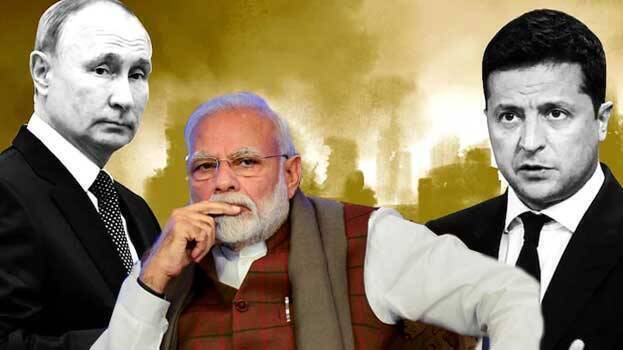 NEW DELHI: As the Russian warplanes were showering missiles over Ukraine, the country had initially hoped for US and NATO interventions. However, it began to seek assistance from other world nations, as US President Joe Biden kept his intervention in mere words. Among them, India's name was heard out prominently. Ukraine had asked Modi government to speak with Putin. The European Union (EU) also asked India to intervene in the matter. Subsequently, Modi held talks with Putin. As of now, India's stance in the issue is in line with its national interests. India is not willing to lose its 'all weather friend' Russia in the Ukraine issue. That is because Russia has helped India as much as Ukraine has hurt India. Let us examine the matter.
In 1998, India under Atal Bihari Vajpayee had conducted nuclear tests. When Operation Shakti was conducted, Ukraine had rushed to impose economic sanctions against India. After India astonished the world through its successful nuclear tests, Ukraine and 25 other countries brought a resolution in the United Nations condemning nuclear tests. Ukraine is a country that had voted in favour of the resolution. Thus, the United Nations Security Council (UNSC) passed resolution 1172 against India. The UNSC also demanded India to refrain from further nuclear tests and forced the country to sign the Comprehensive Nuclear Test Ban Treaty (CTBT). Moreover, India was also asked to stop its research activities on ballistic missiles capable of carrying nuclear weapons.
However, India turned those sanctions into opportunities. It was able to manufacture many goods that were once imported. Nevertheless, the sanctions imposed by Ukraine and other countries were able to delay India's development. Ukraine, which came with a resolution against India, had maintained good relations with Pakistan. Ukraine-Pakistan relations were almost entirely based on arms.
While India bought weapons from Russia, Pakistan dependent on Ukraine for the same. It had bought weapons including war tanks. However, as China-Pakistan relations strengthened, Pakistan's weapon trade with Ukraine got reduced. According to a report by Stockholm International Peace Research Institute, Ukraine had given Pakistan, weapons worth around 1.6 billion dollars. Pakistan can be considered as one of Ukraine's largest customers of all time.
There are no permanent friends or enemies in the international relations. There are only permanent interests. However, the fact is that there is no need for India to intervene in the Ukraine issue, by upsetting Russia. India has also made it clear in the UN that its first priority is to rescue the Indians trapped in Ukraine. The whole world have agreed that India knows how to carry out rescue operations in a battlefield.