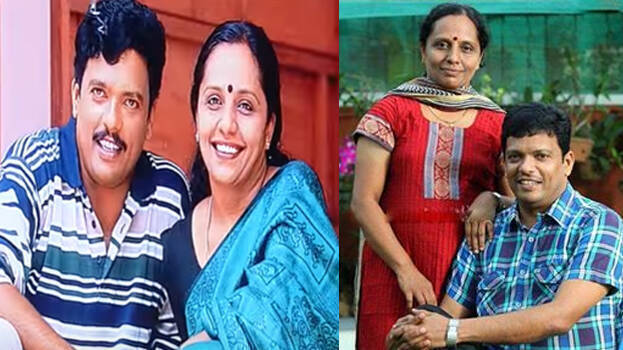 Relatives and friends are shocked on the death of Jagadishh's wife Dr P Rema. The doctor who was ill died Friday morning. Although Jagadish is present on stage with songs and counters, his wife was never seen in any of these venues.
Audiences know the families of most movie stars very well. Their active presence is seen in magazines and award venues. However, no one could see Jagadish's family like that. She hasn't made any public appearances and liked to stay away from the limelight.

Many have asked Jagadish about this. The actor had only one answer, she is not interested at all. Yes, his wife is like that. Dr Rema, former head of the forensic department of Thiruvananthapuram Medical College, a doctor who did not want fame and not interested in coming before the camera. Rema has been suffering from Parkinson's disease for the past six years. She was bedridden for about one and a half years.
Rema was not someone who liked to pose as wife of an actor or attend any discussions. Rema, who thought that her duty as a doctor was more important in life, took her children along that path. Jagadish had given full credit to his wife after their daughters Remya and Soumya studied medicine and became doctors.

The doctor was least interested to appear in public venues. Rema never wanted to publicize her private life. Everyone's wives appear on channels and platforms, but the actor has often faced the question of why his wife fails to appear. In response to these questions, Jagadish said that Rema is the exact opposite of his character.

She does not pose for any photos and she is not interested at all. You can read Rema's character by saying that the more he wants to appear in public, or the more interested he is in printing a photo for a movie publication, the less interested his wife is.

Even if any magazine approaches them as part of a special edition, the photos of the two will not come due to Rema's unwillingness. The doctor also did not like sharing photos on social media as she likes to keep her privacy.

We both think in two ways, but that is what unity of opinion is all about. The actor believed that the success between the two was due to the consensus between the differences of opinion. The film world and the audience are disappointed that Rema has left without giving them a chance to get to know each other better.