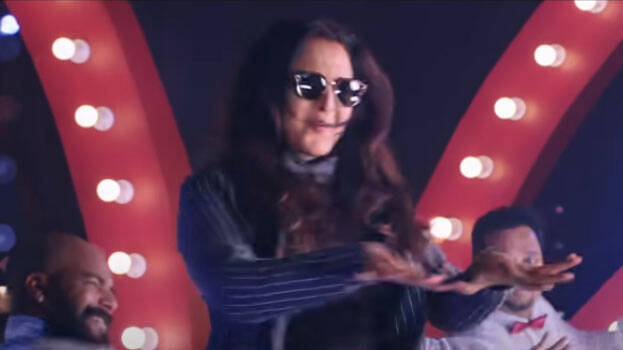 The trailer of the new Malayalam movie 'Jack n Jill' directed by Santosh Sivan has been released. The trailer has been released by Bollywood director Karan Johar. Like the teaser which was released earlier, the trailer guarantees that the film is a perfect entertainer with all the comedy and action. Earlier, first look poster has been released which promises that 'Jack n Jill' would be an interesting film.
The first look poster shows Manju Warrier riding a scooter in devi getup. The song "Kim Kim" from the movie also became viral. Gokulam Gopalan, Santosh Sivan and M Prashanth Das have produced the sci-fi comedy film 'Jack n Jill'. Starring Manju Warrier, the film stars Saubin Shahir, Nedumudi Venu, Indrans, Basil Joseph, Kalidas Jayaram, Aju Varghese, Sethulakshmi, Shaily Kishan and Esther Anil. The movie will hit theaters on May 20. The film will be released by Joy Movie Productions.
The lyrics of the film are written by BK Harinarayanan and Ram Sunder and the music is composed by Ram Surender, Gopi Sunder and Jacques Bijoy. Krishnamurthy is the executive producer. Screenplay: Santosh Sivan, Ajil SM, Suresh Ravindran, Dialogue: Vijeesh Thottingal, Production Executive: Rajesh Menon, Vinod Kalady, Noble Ettumanoor, Assistant Directors: Jayaram Ramachandran, Siddharth S Rajeev, Mahesh Iyer, Amit Mohan Rajeshwari, Associate, Director: Kuku Surendran, Production Controller: Alex E Kurian, Art Director: Ajayan Chalissery, Editor: Ranjith Touch River, VFX Director & Creative Head: Faisal, Sound Design: Vishnu PC, Arun S Mani, (Oli Sound Lab), Stills: Bijith Dharmadam, Designs: Anthony Stephen, Costume: Sameera Saneesh, Makeup: Rony Vellathooval, Distribution Head: Pradeep Menon, Digital Marketing: Anoop Sundaran, PRO: Vazhoor Jose, AS Dinesh, Athira Diljith.