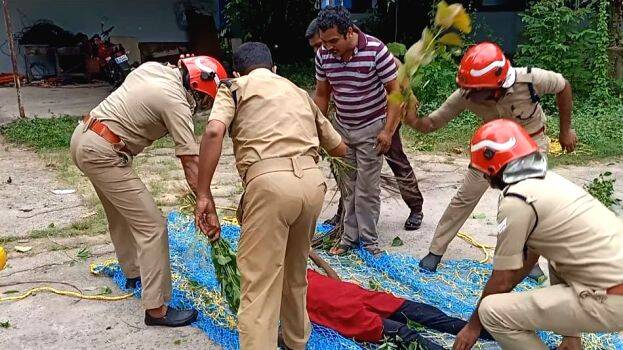 KAYAMKULAM: A Tamil woman, who threatened to kill herself by climbing on top of a BSNL tower to get her three-and-a-half-year-old baby back from her drunken husband, was stung by a bee. She escaped by by jumping into a net spread by the rescue squad.
23-year old Amburosy, wife of of Vijay Mani of Mettu Street in Tamil Nadu's Villupuram district, climbed the 80 metre high tower at the Kayamkulam BSNL office premises at 4.45 pm yesterday. The woman climbed by using the ladder 20 feet above the tower. BSNL employees reached the spot when they heard a noise. Upon learning of the incident, the fire force and the police arrived at the scene.
Although two members of the fire force tried to talk with her and settle her issues, she refused. She wanted the baby right away.
When she reached a height of 60 meters, the bee hive was shaken. The young woman screamed as the bee circled around and stings her. She then jumped into the net and was rushed to Kayamkulam Government Hospital in a fire force ambulance. The young woman overcame the danger.