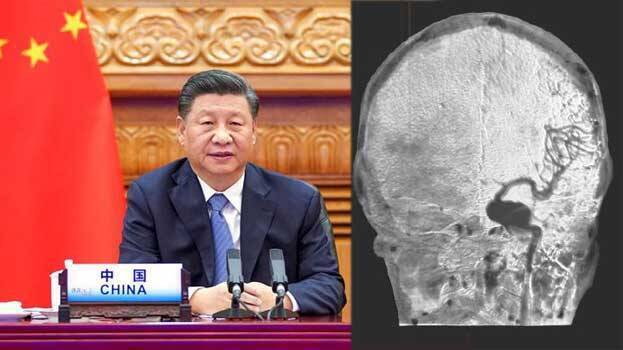 BEIJING: Amid speculations about the deteriorating health of Chinese President Xi Jinping, reports now suggest that the leader has sought treatment for a brain disease. Xi Jinping has been reportedly suffering from Cerebral Aneurysm, an acute brain disease.
As per the report, Xi Jinping had to be hospitalized at the end of 2021. It is said that the leader has opted for traditional Chinese medicines rather than going for surgery.
Xi Jinping has not met with world leaders since the outbreak of Covid-19 pandemic in 2019. Following which, speculations were rife about his health conditions. It was reported that he had faced difficulty to walk during his Italy visit in 2019. Moreover, he was seen taking support to sit, later in his France visit during the same trip. His slow speech and coughing bouts had also added to speculations.
Rumors of Xi Jinping's health are mounting as he is about to face a third term in office. In addition, China is dealing with the worst Covid crisis, the country has ever seen. Over the past few months, severe lockdowns have been declared in China's strategic cities of Beijing and Shanghai.
China also has border disputes with India, including conflicts in eastern Ladakh.
Last month, External Affairs Minister (EAM) S Jaishankar, in a meeting with Chinese Foreign Minister Wang Yi, said that peace and tranquility at the border areas with China have been disturbed and the relationship is not normal as long as there are very large deployments in the border. The Chinese Foreign Minister's visit was aimed at improving India-China ties.
What is Cerebral Aneurysm?
A brain aneurysm (also called a cerebral aneurysm or an intracranial aneurysm) is a ballooning arising from a weakened area in the wall of a blood vessel in the brain. If the brain aneurysm expands and the blood vessel wall becomes too thin, the aneurysm will rupture and bleed into the space around the brain.