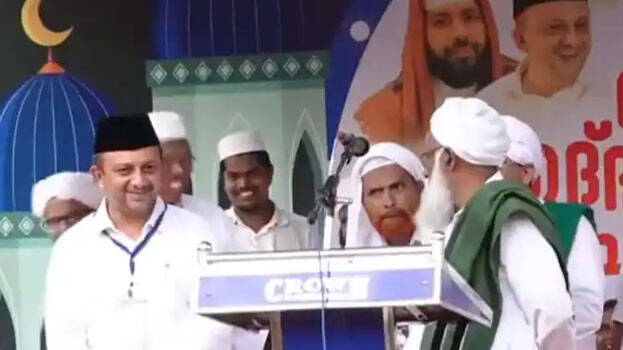 THIRUVANANTHAPURAM: The Kerala State Commission for Protection of Child Rights (KeSCPCR) has registered a suo moto case into the incident in which a Samastha leader publicly insulted a girl. The commission has sought explanation from the Samastha secretary and the police. The child protection officer has also been asked to submit a report.
The incident in which a girl, who came to the stage to receive an award at the Madrasa anniversary in Malappuram's Perinthalmanna, was insulted by a Samastha leader, had caused widespread criticism. The insult was made by Samastha vice president M T Abdulla Musliyar.
Many including the Governor has come forward against the leader. The Governor said that he was saddened that the Kerala community did not protest against the anti-woman remarks made by the leader but, appreciated the courage shown by the girl in the incident. "A case should be taken against the Samastha leader. Why is the government not doing it", he asked.
Governor's words
"I regret that the kind of reaction that should have come from a society like Kerala, which is known for gender equality and protecting the honour and dignity of women... If that protest had come, then there was no need for me to speak.
The definition of terror is when someone tries to threaten the other person to accept views against his or her own choice. The girl was chastised unnecessarily for doing well in exams? What kind of society are we living in? How can we allow these things to go on? They might have 100,000 madrassas, but I will not keep my conscience suppressed. What has surprised me more is that no case has been lodged so far; no cognizance has been taken. Are we going to leave our daughters to the whims and will of these people?
If you look at the video, the girl is wearing Hijab. I have been right from the beginning when I said that they are not campaigning for Hijab, but rather it is a conspiracy to push back women into the four walls of the house, to close their career options so that they lose their interest in education. She was wearing a Hijab. If you are fighting for Hijab, they why are you objecting to the girl and insulting her on the stage? That's because you ultimate purpose is not Hijab. These are the people who are responsible for creating Islamophobia all over the world. Even Muslims like me, I have fear. If they have an upper hand, they will impose their code and their will on every woman."